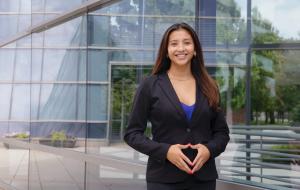 What attracted you to IFAC when you joined?
The interview process solidified my interest in working for the organization. First, I received a call from Human Resources and then a call from one of the team members that I would be working with. It was just very genuine. The conversations were natural, and I had space to talk about what I was interested in–which at the time was women inclusion networks and female leadership. The women I spoke with are strong female leaders and have become people who I look up to now. Those conversations sold the role–or at least the culture at IESBA.
What types of projects did you get to work on while interning for IESBA?
During the internship I did a lot of research. I hadn't done that kind of extensive research until I joined. I learned how to read through information quickly and take out the most important points. Because I was working on ESG, I read reports published by various regulatory organizations. At the end of the summer, there was a Board meeting that was going to occur, so we were getting a lot of materials together for it and I was rolling information I was researching and putting together up to my manager.
Even though I was ESG focused, I was also able to be a part of many different conversations around the organization, for example, my manager included me in technology working group meetings. Through these meetings, I met various people within IFAC but also from other groups that IESBA works with. I met people from Africa, someone from Brazil–and those are connections I still have now. What stood out most from the different projects was meeting different people and seeing the wide-scale picture of IESBA and its international reach.
Another project I enjoyed was at the end of my internship when I was tasked with writing an article about my experience at IESBA. It felt great to put my whole summer in one article by talking about technology, ESG and issues that were important to me, but also to the public more broadly. I made a call to action for readers to join the Board meeting that was taking place at the end of summer.
What is your current role?
I work at PwC in Enterprise Technology Solutions as an advisory associate. My day-to-day work really depends on the client and their needs. Right now, I'm working in a technology project management focused role, but other work my team does is conducting project health assessments, cloud transformations and other similar cloud consulting work. 
How did working for IESBA prepare you for your current job?
I had landed my PwC role before I started the IESBA internship. My role with PwC began in late fall of 2021. While with IESBA, I got the holistic picture of the company and the profession that I hadn't gotten before. I was able to experience meetings with different groups like the technology working group and understand how the discussions and information was developed and incorporated into the Board meeting.
Similarly, something that really stood out during the internship was that the HR team set up meetings for the interns to speak with different groups, and we had the opportunity to speak with inspiring leaders in the organization. For example, we met the head of communications, we met the CFO, the CEO–which are opportunities you don't just get at any internship. This was so valuable. We received great advice from these leaders which helped me expand that picture even more. This was something I brought to PwC– this ability to work with different groups on various projects and understand how all parts come together as a puzzle.
What's the most valuable skill you took away from your internship?
Being able to research–being able to read, analyze and figure out how to best present it. Now when I'm taking in information or am taking notes during a meeting I think, how will the person reading this want to digest it and how can I better communicate this even though it's in writing. It's my research and communication skills that were necessary to develop before I started my current role.
What advice do you have for prospective interns at IESBA and IFAC?
Be a sponge. You will only get out of this experience what you put into it. It's important to be curious. What I mean when I say "be a sponge" is there's so many different people you can learn from and so many conversations you can be a part of. My manager was inclusive and brought me into many meetings over the summer. Even if I was only listening in, I was able to witness different perspectives.
If you are present and dive into this experience, if you really put that time and energy in, you'll get so much out of it. You'll not only grow professionally but also personally. 
My other piece of advice is to voice the things that you want to learn and the experience you want to have. ESG was something that I mentioned I was interested in during my interviews and then I got fit into an ESG role without expecting it. I'm currently in a technology role and studied Management Information Systems in college. By sharing my background and interests, they were able to map me to an area I was familiar with (technology) and a space I wanted to explore more (ESG). This was a great learning opportunity which I still immensely value today.