Image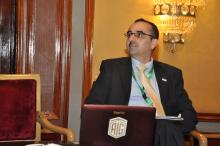 Jamal Milhem
Jamal Milhem joined the IFAC PAO Development & Advisory Group in January 2018 for the first term 2018-2020 and was reelected for second term 2021-2023. He was nominated in 2018 by The International Arab Society of Certified Accountants (IASCA) and has been a member of the PAOD&AG since then. Mr. Milhem was also elected by the PAOD&AG as the chair of the MENA Working Group.
Mr. Milhem is currently the Executive Director and partner of TAGI in Palestine and a member of the TAGORG executive Management Council (TAGI is an International Audit firm, Member of FOF and one of TAGORG firms with more than 100 offices worldwide). He has more than 28 years of experience in public accounting and advisory services in different countries in TAGI and TAGORG. In addition, he has more than 7 years of experience in higher education in different universities in Palestine related to teaching and development of accounting education programs.
Mr. Milhem has joined the Palestinian Association of Certified Public Accountants (PACPA) in 1997 (PACPA is a national PAO and an IFAC member), and he has been serving as a board member since 2003 and was elected as vice-president of PACPA from 2010 to 2016 and reelected as a vice president since 2018. He also chaired Code of Ethics Committee and Quality Assurance Committee in PACPA. Furthermore, he has been elected as a board member of IASCA since 2011, (IASCA is a regional PAO and an IFAC member). Mr. Milhem was a member of the American Institute of Certified Public Accountants, AICPA – Montana State (USA) from 2000 till 2011. Mr. Milhem also served as a member of many other national professional committees, e.g. National team for AML risk assessment, National Palestinian WTO Accession Team, steering committee for National Team for Transparency and licensing committees in the Palestinian Capital Market Authority i.e. (financial analyst), (financial consultant), (investment consultant) and (IPO manager).
Mr. Milhem has earned his Bachelor's degree in accounting and auditing in 1992, and Master degree in business administration in 1994 from University of Poona, Symbiosis College, India. He has obtained the CPA certification from Montana State Board of Public Accountants – USA in 1998.