Image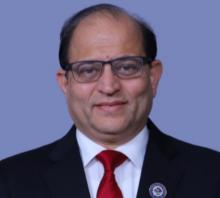 Prafulla Chhajed
Prafulla Chhajed is member of the IFAC PAO Development & Advisory Group for the term 2021–23 nominated by the Institute of Chartered Accountants of India (ICAI).
Mr. Chhajed is a past President of ICAI (2019–20) and elected as Central Council member for the term 2019–22. He is also chairman of Executive Committee of the World Congress of Accountants 2022 to be held in Mumbai, India in November 2022.
Mr. Chhajed is also a board member of the Confederation of Asia and Pacific Accountants and was previously an observer at IFAC Board. He also represented ICAI at various national and international organizations, such as board member of the South Asia Federation of Accountants and council of International Integrated Reporting Council. He is currently a member of the board for various organizations in India.
Mr. Chhajed is a fellow member of ICAI and holds an additional qualification in Law.