Image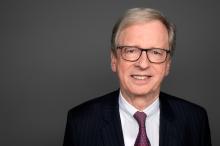 Wienand Schruff
Dr. Wienand Schruff joined the IFAC Nominating Committee in January 2020, having completed two terms as a member of the IFAC board (2013-2019). He was jointly nominated by Institut der Wirtschaftsprüfer (IDW) and Wirtschaftsprüferkammer (WPK).
Dr. Schruff is a Certified German Auditor (Wirtschaftsprüfer) and a retired Senior Partner from KPMG. During his 35 years with KPMG he held several senior leadership roles at national, European and global levels, including chair of KPMG's Global Regulatory Group and chair of the IFRS Panel. He was managing partner for KPMG's Berlin office (1997-2001) and a member of the Management Board at KPMG Germany (1998-2013).
Dr. Schruff was board member at WPK from 2014 to 2018. He also served on several IDW Committees, including as chair of the Audit and Accounting Committee (2001-2013) and ex-officio member of the IDW Board. He has been member of the Standing Interpretations Committee to the International Accounting Standards Committee (1997-2001) and several working groups at Accountancy Europe (previously Fédération des Experts Comptables Européens, or FEE).
Dr. Schruff has been a regular lecturer at universities and has been awarded Honorary Professorship of Accounting and Auditing by the University of Münster (1999) and by the Humboldt University of Berlin (2011). He received his Ph.D. from the University of Münster in 1984. He has authored numerous handbooks and technical literature on accounting and auditing.