Creating Value with Integrated Thinking
The Role of the Professional Accountant
IFAC
| Surveys & Reports
978-1-60815-255-1
English
In progress Translation:
This thought paper helps facilitate the contribution of professional accountants to integrated thinking—and help align capital allocation, corporate behavior, financial stability, and sustainable development. It sets out a vision for integrated thinking and explores what professional accountants working in the public and private sectors can do in practical terms to facilitate it in their organization, regardless of whether their organization is planning to publish an integrated report. It identifies five key elements, which, if implemented, can lead to more effective organizations. This ultimately provides the basis for shifting from today's financially oriented reporting to integrated reporting.
This paper reflects integrated thinking as we understand it today, given that this is a period of experimentation for many organizations. It explores what integrated thinking involves, as well as its challenges and how they can be overcome, and advances a meaningful understanding of its role and power. Notably, the publication also discusses how integrated reporting both improves and is improved by integrated thinking.
If you cannot see the image below, please click here to view publication.
Image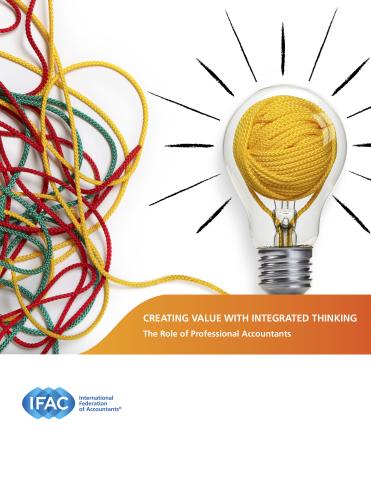 The Role of the Professional Accountant
Copyright © 2023 The International Federation of Accountants (IFAC). All rights reserved.