The State of Play: Beyond the G20
Sustainability Disclosure and Assurance in 20 More Jurisdictions
IFAC
| Surveys & Reports
English
The State of Play Beyond the G20 expands IFAC's sustainability disclosure and assurance data to 20 additional jurisdictions beyond the G20 previously reported on. The State of Play Beyond the G20 focuses on the Global South with data from three jurisdictions from Latin America, six in Africa and Middle East, and four in the Asia-Pacific region, as well as six smaller-sized economies within the European Economic Area and Switzerland.
Image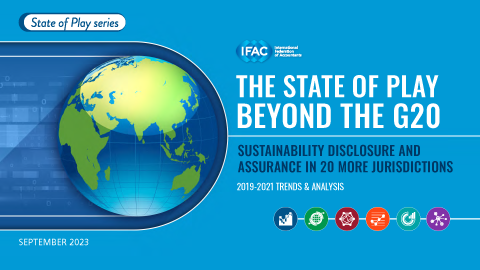 Sustainability Disclosure and Assurance in 20 More Jurisdictions
Copyright © 2023 The International Federation of Accountants (IFAC). All rights reserved.