The 2030 Agenda for Sustainable Development
A Snapshot of the Accountancy Profession's Contribution
IFAC
Nov 9, 2016 | Guidance & Support Tools
978-1-60815-314-5
English
All available Translation:
As we rapidly approach the 8.5 billion people on Earth expected by 2030, sustainable development challenges, such as inequality and extreme poverty, climate change, and trust in business and government, pose challenges for societies, economies, organizations, and financial markets. The 17 Sustainable Development Goals (SDGs) represent the means to sustain people, planet, and prosperity to 2030, and include a clear call for partnerships between the public, private, and voluntary sectors to address these challenges.
This report provides a snapshot of the accountancy profession's contribution to achieving these Goals. It highlights the importance of the Goals to business and the profession, and considers how accountancy contributes to eight specific Goals. It features existing activities and initiatives within the profession that support the Goals and poses questions for professional accountancy organizations and professional accountants to consider going forward.
IFAC looks forward to a continuing dialogue within and beyond the profession on its role in mainstreaming, implementing, and monitoring the Goals, starting with a workshop on this topic at the IFAC Annual Council meeting in Brasilia, Brazil, November 16-17, 2016.
Image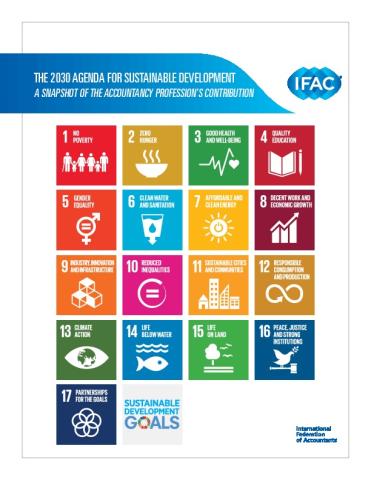 A Snapshot of the Accountancy Profession's Contribution
Copyright © 2023 The International Federation of Accountants (IFAC). All rights reserved.