Борьба с отмыванием денег: основы Часть 7: Виртуальные активы
Anti-Money Laundering, The Basics Installment 7 - Virtual Assets
Translated by:
The Chamber of Auditors (Republic of Belarus)
IFAC
| Guidance & Support Tools
Russian
All available Translation:
This is the seventh installment in the Anti-Money Laundering, The Basics series.
The series provides professional accountants with a better understanding of how money laundering works, the risks they face, and what they can do to mitigate these risks and make a positive contribution to the public interest. 
To be globally relevant, the series uses the risk-based approach of the Financial Action Task Force (FATF) – the global money laundering and terrorist financing watchdog -- as a starting point.
Installment seven focuses on virtual assets.
Image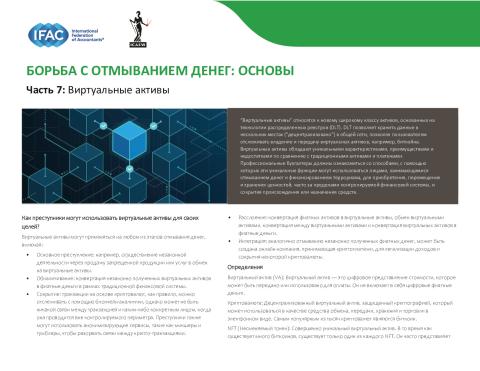 Anti-Money Laundering, The Basics Installment 7 - Virtual Assets
Copyright © 2023 The International Federation of Accountants (IFAC). All rights reserved.