Evaluar y Mejorar el Control Interno en las Organizaciones
Evaluating and Improving Internal Control in Organizations
IFAC
Apr 13, 2016 | Guidance & Support Tools
Spanish-Latin America
Guía Internacional de Buenas Prácticas
Esta guía resalta las áreas donde la aplicación práctica de las normas y marcos existentes de control interno fallan en muchas organizaciones. La nueva guía ayudará a los profesionales de contabilidad en negocios, que trabajan en sus organizaciones para evaluar y mejorar el control interno de forma continua, y asegurar que es parte integral de los sistemas de gobierno y gestión de riesgos de la organización. Mejores controles internos integrados pueden ahorrar tiempo y dinero a la organización mientras que ayuda a crear y preservar el valor.
Image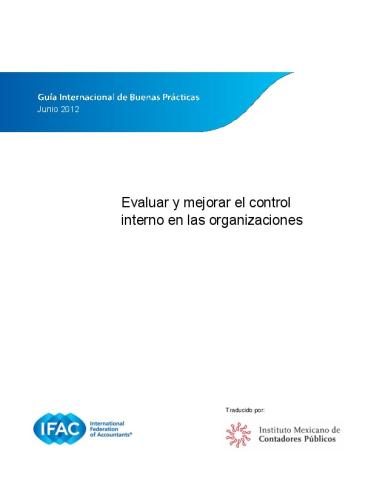 Evaluating and Improving Internal Control in Organizations
Copyright © 2023 The International Federation of Accountants (IFAC). All rights reserved.