Report of the September 2016 PAIB Committee Meeting and Actions for PAOs
A Profession Relevant to Accountants in Business
IFAC
Nov 11, 2016 | Surveys & Reports
English
The IFAC Professional Accountants in Business (PAIB) Committee has made a fundamental change to how it conducts meetings. Gone is the static boardroom-style meeting; in its place are dynamic sessions involving small group discussions and interactive exercises to solicit the knowledge, experiences, and input of all our members and technical advisors from around the world.
This group of business and finance leaders informs IFAC and the profession on the opportunities and challenges facing business and the public sector, and the consequences for finance and finance professionals. This new approach is designed to:
create effective connections between IFAC and professional accountancy organizations (PAOs) to enhance the relevance to professional accountants in business;
build the capacity of IFAC and the wider PAIB community to respond to emerging issues affecting them; and
deliver greater value to the meeting participants.
The new creative and innovative approach to meetings enables crowd-sourcing knowledge, ideas, and experiences for IFAC and the profession. Knowledge sharing by committee members on practices in the organizations they work for provides invaluable feedback and insights on emerging themes and trends. The insights from the IFAC PAIB Committee will hopefully provide PAOs ideas for its priorities and initiatives related to PAIBs.
Image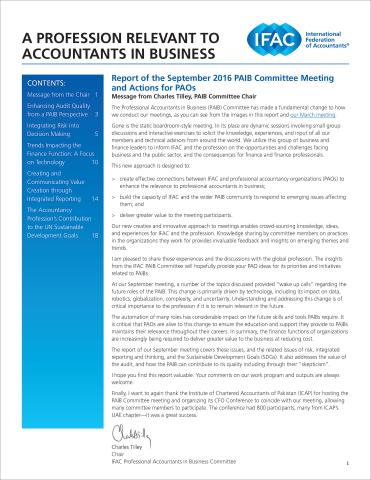 A Profession Relevant to Accountants in Business
Copyright © 2023 The International Federation of Accountants (IFAC). All rights reserved.