The Role and Expectations of a CFO: A Global Debate on Preparing Accountants for Finance Leadership
IFAC
Oct 10, 2013 | Exposure Drafts and Consultation Papers
Comments due by:
This Discussion Paper is designed to stimulate a global debate on preparing accountants for finance leadership roles, including chief financial officer (CFO). The paper features five principles that highlight the changing expectations, scope, and mandate of the CFO and finance leadership roles and recommends what action professional accountancy organizations and employers can take to prepare professional accountants for career progression to finance leadership.
These principles and recommended actions raise awareness of the implications for the education, training, and development of professional accountants. The Discussion Paper will be used as a basis to engage professional accountancy organizations, employers, and other stakeholders on sharing and enhancing approaches to preparing professional accountants for finance leadership.
The Discussion Paper is also important to the regulatory community, which strive for well-governed and managed organizations. The CFO is a critical part of a chain of actors—including the governing body, chief executive officer, audit committee, and auditor—all of whom share the responsibility for ensuring sustainable value creation, as well as relevant organizational reporting. The advantages the training, expertise, and experience professional accountants bring to the CFO role are not always recognized, especially professional accountants' combination of ethical and technical mindsets with business acumen and organizational awareness.
Image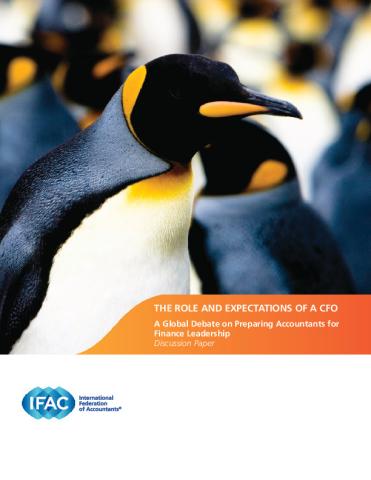 Discussion Paper
Image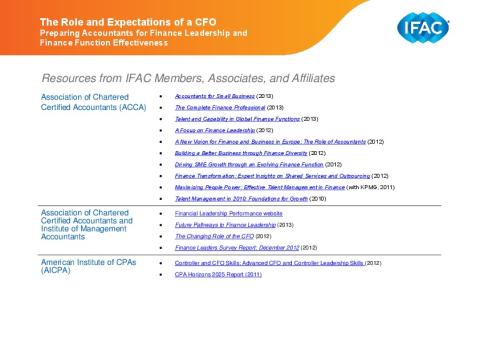 Resources from IFAC Members, Associates, and Affiliates
Image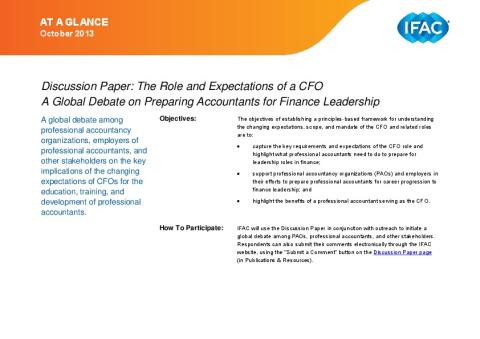 At a Glance
Copyright © 2023 The International Federation of Accountants (IFAC). All rights reserved.
Submitted Comment Letters
(India)

(United States of America)

(Singapore)

(Singapore)

(Singapore)

(Brazil)