As a professional accountancy organization (PAO), the Institute of Chartered Accountants of Barbados (ICAB) has, for many years, collaborated with the Government of Barbados in its efforts to improve the country's public financial management (PFM) system. While there have been a number of success stories resulting from that collaboration, Barbados is on a continuous PFM reform journey with more work still to be done.
In recent weeks the Report of the Auditor General for 2021 identified a number of areas of concern with respect to accounting practices and financial reporting by the Treasury and some state-owned enterprises (SOEs). This report triggered much discussion and debate on PFM in Barbados and underscored the need for increased efficiency, accountability, and transparency in public financial reporting.
The heightened interest in PFM by the citizens of Barbados must be applauded. This public interest emphasizes why PFM is a strategic priority for ICAB, and why ICAB is committed to continuing to collaborate with the government to progress reforms.
How did ICAB get started on this journey of collaboration with the government on PFM reform?
In 2007, the Parliament of Barbados enacted the Financial Management and Audit Act, which adopted the accrual basis International Public Sector Accounting Standards (IPSAS) as the financial reporting standards for the Barbados public sector.
ICAB's first major step in working with the government was serving on a steering committee for IPSAS implementation during the move from a cash-based to an accrual system of accounting. Through this engagement, ICAB recognized the need to deepen its focus on accounting and auditing issues in the public sector. Therefore in 2011, ICAB's Council approved the creation of a Public Sector Committee as one of its standing committees, comprised of accountants in government and business and auditors.
The first chair of the Public Sector Committee was Mr. William Layne, an ICAB member and former Permanent Secretary of the Ministry of Finance. Under his chairmanship, the immediate priorities of the committee were to:  
Create relevant continuing professional development (CPD) for public sector accountants;
Establish joint initiatives with government agencies; and
Promote membership of ICAB to professional accountants in the public sector.
The Public Sector Committee worked with other committees to expand CPD offerings for public sector accountants beyond IPSAS, including seminars in internal controls and internal auditing, preventing corruption, enhancing accountability and the role of the auditor general, and pensions reform.
The work of ICAB's Public Sector Committee caught the attention of colleagues in the Institute of Chartered Accountants of the Caribbean (ICAC). As the first PAO in the region to have such a committee in place, the chairman of ICAB's Public Sector Committee was invited by ICAC to share with other Caribbean PAOs ICAB's experience in working successfully with the public sector to promote good governance, accountability, implementation of IPSAS and other best practices.
The second major step was taken when the Public Sector Committee broadened its focus on PFM reforms to wider governance issues confronting the public sector. This was marked by an inaugural ICAB Public Sector Conference in 2018, co-hosted with CPA Canada and titled Public Financial Management (PFM) Reforms in Barbados – Challenges and Opportunities. The conference provided ICAB members access to international experts in matters relevant to the public sector, such as digital technology, governance, transformational leadership, PFM reforms and financial reporting. This conference now has a permanent place on ICAB's calendar of events, with the next public sector conference scheduled on September 16, 2022. This will focus on the Public Procurement Act 2021, the Consolidation of Financial Statements under IPSAS and more.
The third major step occurred after the enactment of the Public Finance Management Act 2019 (PFM Act), which replaced the Financial Management and Audit Act 2007. The new PFM Act is aimed at strengthening and improving PFM and includes new provisions related to the reform of SOEs, particularly in the areas of governance, finance, and reporting.
The ICAB president at that time, Lydia McCollin, along with the Public Sector Committee, held discussions with the Ministry of Finance to determine how ICAB could work with the government in this next important phase of PFM reforms. In November 2019, ICAB submitted a proposal to the Ministry of Finance outlining how ICAB—through its members, partnerships with professional qualifying bodies and other professional associations—could add value, provide guidance and assist the government in implementing its initiatives in the areas of corporate governance, financial accountability, reform of SOEs, training and certification for public sector finance officers, institutional strengthening of finance departments, and internal audit.
As a follow-up, ICAB also submitted to the Ministry of Finance a Corporate Governance Framework for SOEs and a paper on establishing audit committees at all SOEs for consideration and further discussion. Additionally, ICAB's CPD schedule included training on accounting fundamentals and practice to increase efficiency and effectiveness in financial reporting in the public sector.
Image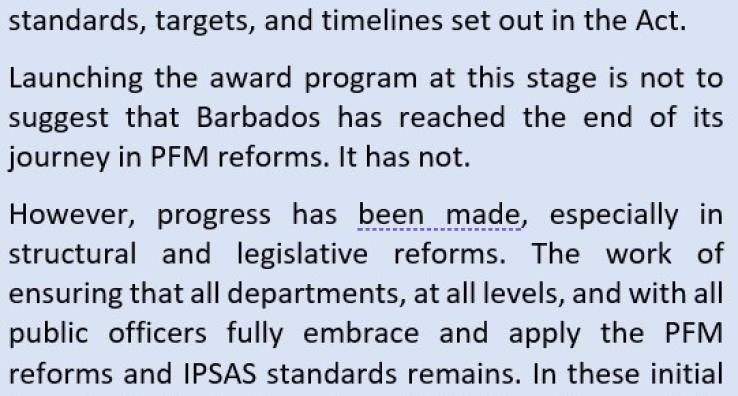 What lessons can be learned from the ICAB experience in supporting reforms in public financial management?
First, as a small PAO with limited resources, much can still be achieved by drawing on the time and talents of members through committees. The ICAB Public Sector Committee is one of the newer committees but its clear mandate and ICAB's governance polices have facilitated its strong performance in support of PFM reforms and contribution to the professional development of ICAB members in the public sector.­­­
Second, while changes to laws, regulations and accounting policies are necessary for PFM reform, they are not sufficient to ensure success. Those high-level changes must be supported by clear interpretation and articulation of accounting policies by senior management, training and development for staff at all levels, changes in administrative procedures, and timeliness and accuracy in reporting at all levels.­­­
Thirdly, the ICAB's experience has shown the importance of celebrating the reform's successes, even while still struggling with the more difficult and slower aspects of reform. This can be an inspiration to the agencies and individuals who still have their "mountain to climb" with their own reforms.