Conectando Sua Programmação Educacional com Tendências em Ascensão
Percepções do grupo de consultoria e desenvolvimento IFAC PAO
Translated by: IFAC
IFAC
| Guidance & Support Tools
Portuguese
Este novo relatório orientará as organizações profissionais de contabilidade sobre como elas podem agir hoje para preparar seus membros atuais e futuros para aproveitar as oportunidades apresentadas pelas tendências emergentes usando insights do IFAC Professional Accountancy Organization Development and Advisory Group. Esses insights abordam quatro tendências emergentes – relatórios relacionados à sustentabilidade, esforços anticorrupção, boa gestão das finanças públicas e mudança tecnológica – que ajudarão os PAOs a garantir resiliência, relevância e adaptabilidade próprias e de seus membros hoje e no futuro.
Image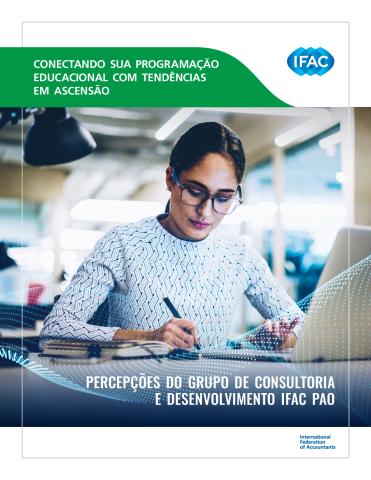 Percepções do grupo de consultoria e desenvolvimento IFAC PAO
Copyright © 2023 The International Federation of Accountants (IFAC). All rights reserved.