In Person Event: ACE events - Avenue d'Auderghem 22, B-1040 Brussels
Date: October 3, 2023 | Time: 02:00 PM - 05:00 PM
COMPLETED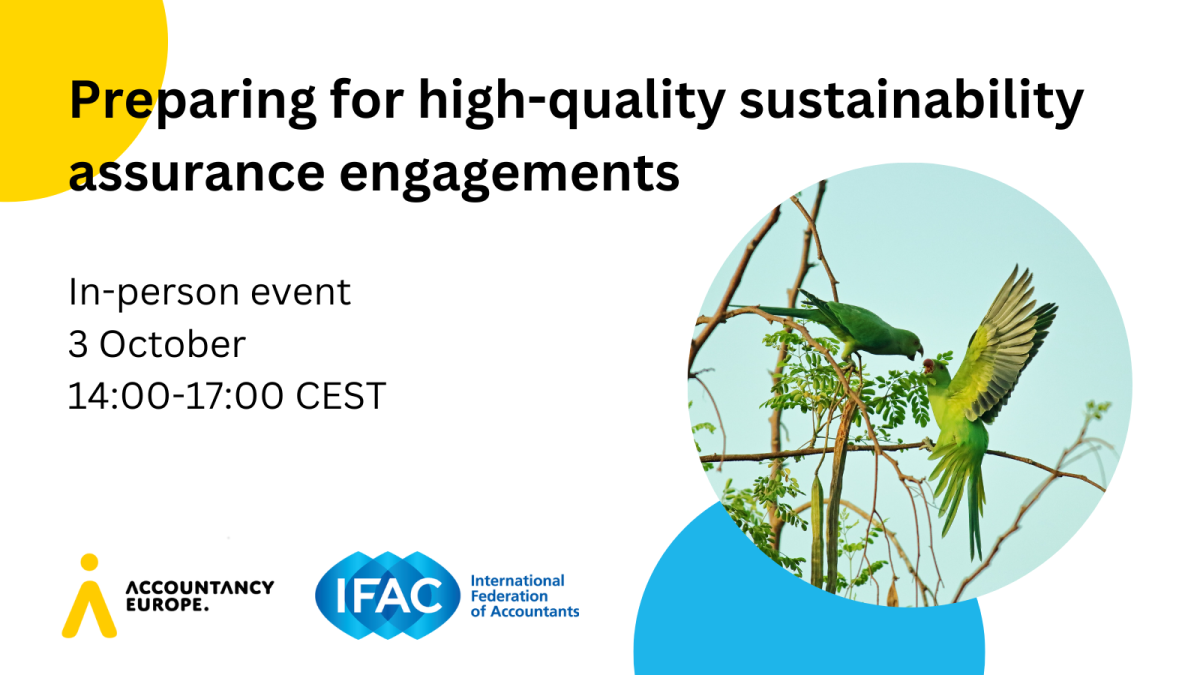 The Corporate Sustainability Reporting Directive (CSRD) mandates that businesses seek assurance on their sustainability reporting and empowers the European Commission (EC) to adopt assurance standards. The International Auditing and Assurance Standards Board (IAASB) currently has a public consultation open on its recently proposed sustainability assurance standard. The EU could be the first jurisdiction to embed the IAASB's proposed new standard—International Standard on Sustainability Assurance (ISSA) 5000—into its regulatory framework, as a response to new EU requirements.
IFAC and Accountancy Europe will bring a diverse range of stakeholders together to discuss the regulatory, policy and standard-setting path toward high-quality sustainability assurance and the main matters covered within the IAASB's proposed standard.
Register now and join us to prepare for high-quality sustainability assurance with the IAASB, the EC, the Committee of European Audit Oversight Bodies (CEAOB), assurance service providers, investors and business community.
Speakers:
Sven Gentner, Head of Unit, DG FISMA, European Commission
Tom Seidenstein, Chair, IAASB
Patrick Parent, Chair, CEAOB
Isabelle Tracq-Sengeissen, Member, IAASB and Task Force sustainability assurance standards, IAASB
David Madon, Director, Sustainability, Policy & Regulatory Affairs, IFAC
Wim Bartels, Chair, Sustainability Policy Group, Accountancy Europe
Tanja Castor, Sustainability Strategy, Head of Sustainability Reporting & Controlling Committee, BASF
Marc Boissonnet, Executive Vice President and Chief Sustainability Officer, Bureau Veritas
More speakers to be confirmed. Programme coming soon.