90+%
of IFAC member jurisdictions use International Standards on Auditing, International Financial Reporting Standards & International Code of Ethics for Professional Accountants
80+%
of IFAC member jurisdictions have monitoring & enforcement mechanisms for quality assurance and investigation & discipline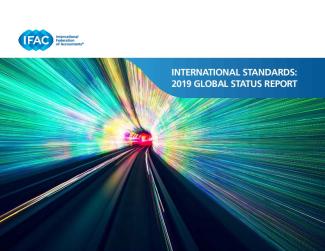 Adoption is one journey, implementation another
There are no international laws requiring nations adopt and implement international standards that are fundamental to trust in markets, investments and economic growth.
They are adopted because their quality, legitimacy and impact have been demonstrated and focus on the public interest.
They are also adopted because IFAC's member organizations' deep commitment help drive both adoption and implementation. This report shines a light on the important and often untold story of how standards are adopted and implemented—a process that can be as complex as developing a standard and frequently requires years of advocacy, education, outreach and coalition building. The report also reinforces the impact of standards in driving transparency and creating a common language for high-quality financial information.
Where IFAC member organizations have at least some authority in the standard-setting and regulatory environment, there is a positive trend in international standards' usage. Yet further multi-stakeholder support from international policy-makers and regulatory organizations, as well as leaders from government, academia, and business, is required to extend the adoption success story—creating the right conditions for implementation is mission critical. It will take focused effort, leadership, and collaboration to establish the legal and regulatory frameworks to support the timely implementation of the standards.
As ever, the global profession stands ready to support this endeavor.