Insights from IFAC's Professional Accountants in Business Group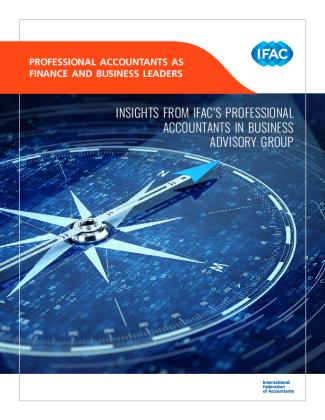 Professional accountants in business and the public sector are stepping up to support their organizations through chaotic times.
At its September 2022 hybrid meeting, IFAC's Professional Accountants in Business (PAIB) Advisory Group considered key trends impacting businesses and public sector organizations globally, as they confront and navigate increasingly complex and interconnected challenges in the current uncertain environment. 
The report, Professional Accountants as Finance and Business Leaders, summarizes the key insights and learnings from the discussions amongst this global group of business and finance leaders, drawing from their diverse experiences and expertise.
Crafted from highlights of the discussion, the report explores the key role of PAIBs in: 
Digitalization of finance and accounting, with a case study on Procter & Gamble; 
Driving sustainable value creation through an integrated mindset, with a case study on Natura & Co; 
Corporate governance and oversight of sustainability and ESG; 
The growing B-Corps movement; and 
Sustainable financing. 
Two sections of the report are expanded upon as supplemental pieces available to download:  
Sanjay Rughani, IFAC PAIB Advisory Group Chair, said: "Even in volatility and uncertainty, there are opportunities to disrupt, reinvent, and innovate to create value for businesses and for society. Professional accountants in business and the public sector must seize new opportunities in the digital and sustainability transitions of organizations and economies." 
Supplemental Reports, Case Studies & Insights