Image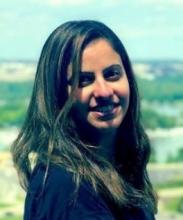 Dana Jensen
Job Title
Senior Manager, IFAC
Dana Jensen is a Senior Manager with more than 10 years of experience working at IFAC to support the development, adoption, and implementation of high-quality international standards.
She leads membership engagement in the Middle East North Africa (MENA) and Caribbean regions. She is also the lead staff responsible for managing the IFAC Professional Accountancy Organization (PAO) Development & Advisory Group which actively contributes to IFACs strategic objectives by raising awareness on PAO development, facilitating adoption and implementation of international standards and best practices, and empowering PAOs with guidance, leadership, and technical assistance. Dana also leads IFACs Islamic Finance thought leadership program to support the United Nations Sustainable Development Goals (SDGs) as it promotes socially responsible development and links to economic growth and social welfare.
Prior to her time at IFAC, Dana was a Policy Coordinator at the United Nations (UN) in the Department for Peacekeeping Operations. She holds an MSc from Columbia University (2011); she is currently Prince Sultan University-Banque Saudi Fransis Fellow in Islamic Finance (2021-2023) and holds a Diploma in Islamic Finance from the Chartered Institute of Management Accountants (CIMA) (2023).