Image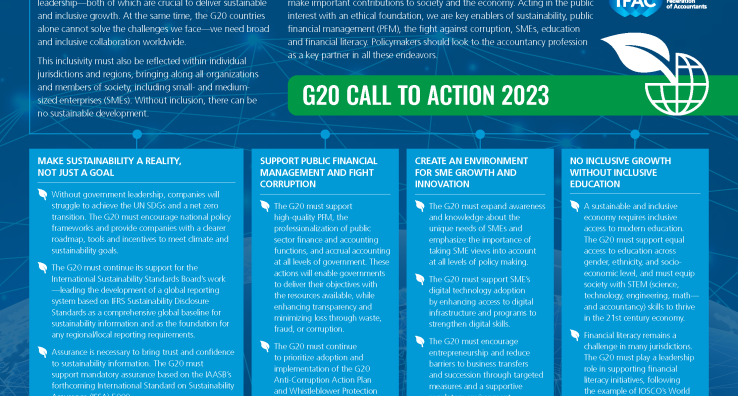 September 2023 marks the half-way point to the deadline set by the United Nations for achieving the 2030 Agenda and the Sustainable Development Goals. As such, 2023 is a time to consider the progress we have made, the progress we have not made, and the challenges we face ahead in achieving the UN's SDGs. 
The G20 is an important forum for global cooperation and leadership—both of which are crucial to deliver sustainable and inclusive growth. At the same time, the G20 countries alone cannot solve the challenges we face—we need broad and inclusive collaboration worldwide.
This inclusivity must also be reflected within individual jurisdictions and regions, bringing along all organizations and members of society, including small- and medium sized enterprises (SMEs). Without inclusion, there can be no sustainable development.
The global accountancy profession and individual professional accountants make important contributions to society and the economy. Acting in the public interest with an ethical foundation, we are key enablers of sustainability, public financial management (PFM), the fight against corruption, SMEs, education and financial literacy. Policymakers should look to the accountancy  profession as a key partner in all these endeavors.