Since 2020, the World Bank Group Middle East North Africa (MENA) Governance Global Practice and IFAC, in cooperation with the Arab Federation of Accountants and Auditors (AFAA), have joined forces to host a collaborative webinar series for accountancy and audit-related organizations throughout the MENA region. This series provides a forum for the organizations to work together to support MENA region members and partner countries, position them for success during and post-COVID, and advance transparency and accountability throughout the region. The key objectives of this initiative are to provide participants with access to experts, opportunities to discuss emerging issues and concerns, and a regional forum for collaboration on regional issues.
Middle East North Africa: Moving from Cash-basis to Accruals-basis Accounting was held on June 22, 2022, and was co-chaired by Jens Kristensen, Practice Manager, Middle East North Africa, World Bank, and Hatem Kawasmy, Chairman, AFAA, on the transition from cash to accrual accounting in the MENA region. The event attracted 660 registrants and 325 live participants. Among those represented were senior government officials, members of supreme audit institutions and professional accountancy organizations (PAOs), international development partners, IFAC PAO Development Advisory Group members, individual practitioners and students. The decision to focus on accrual-based transitions stemmed from the panel discussion that took place the prior year on August 31, 2021. In that panel, participants expressed interest in a deep dive pertaining positioning themselves for success in a transition to accruals-basis. Accrual-based financial information is the bedrock for decision-making, transparency, and accountability in the public sector; at the same time, transitioning to accrual-based reporting is a lengthy and arduous process.
The event on June 22 kicked off with a presentation from Alex Metcalfe, Global Head of Public Sector, ACCA, on the benefits of accruals in the public sector and lessons learned by the global community of experts. At the most basic level, accruals provide fiscal discipline and are more intuitive for non-financial staff and the public. On higher levels, accrual accounting facilitates public scrutiny, achieving value for money and financially sustainable decision-making. It puts finance at the heart of decision-making.
Being able to effectively communicate these benefits of accrual across the wider PFM system is crucial to achieve much-needed senior buy-in. Practical implementation tools are needed to support comprehensive implementation strategy at the national, sectoral and entity level, where success will depend on effectively syncing these plans. One such tool is the Pathways to Accrual, which was introduced by International Public Sector Accounting Standards Board (IPSASB) Technical Advisor David Watkins and Laura Leka, IFAC's public financial management lead.
Image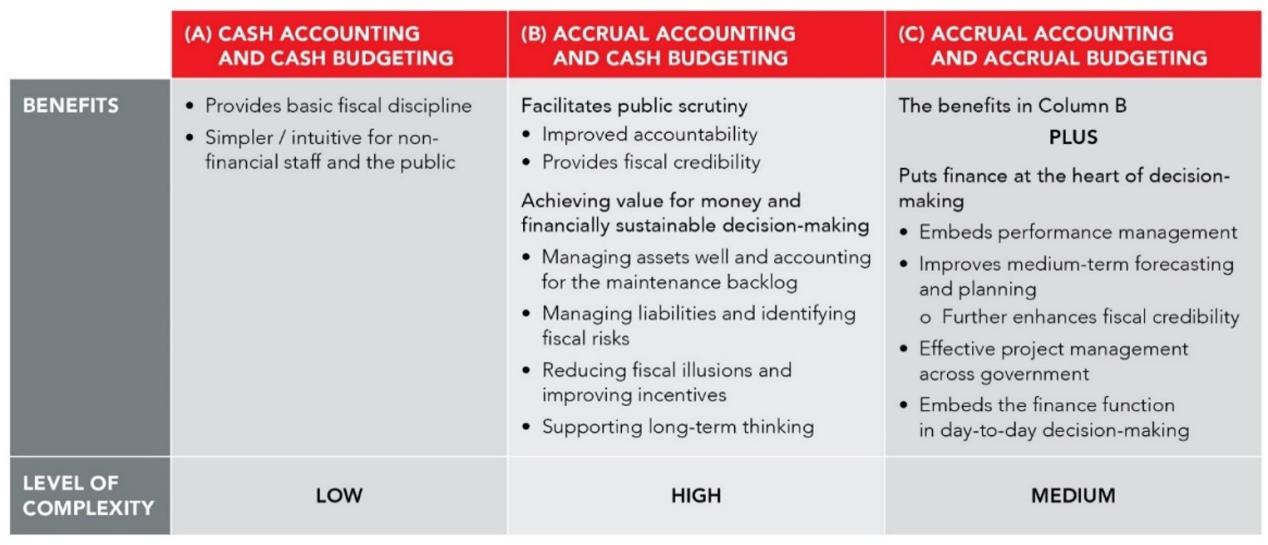 Capacity building needs to be considered at every stage of the reform—from planning, to implementing, and, most importantly, to sustaining by retaining staff and transitioning knowledge from external consultants to local staff. Mona El-Chami, Senior Governance Specialist, World Bank, added that the World Bank strongly supports capacity-building initiatives at both the global and regional level to help overcome some of these challenges and to allow governments to:
Provide comprehensive overviews of their financial position and performance;
Facilitate external oversight of public expenditures and therefore boost trust in government;
Prepare more reliable fiscal statistics and manage fiscal risks through transparent disclosure of future obligations and liabilities; and
Foster transparency and accountability in public spending related to the COVID-19-triggered sovereign debt crisis.
Dana Jensen, MENA regional manager at IFAC, added that as of the date of the event, only 11% of member jurisdictions in MENA fully adopted IPSAS, whereas 53% have partially adopted the standards in MENA. According to the International Public Sector Financial Accountability Index (produced by IFAC and CIPFA), 46% of jurisdictions in MENA plan to either adopt IPSAS with no modifications, adopt IPSAS modified for the local context, or adopt national standards with reference to IPSAS by 2030. The results paint a positive picture of accrual adoption efforts at the regional level going forward. The timing is right to foster dialogue and the exchange of experience between countries that have gone through the cash-to-accrual transformation and those that haven't. At the event, Abdulla Al-Mehthil, Assistant Undersecretary, Saudi Arabia Ministry of Finance, and Dr. Ahmed Al-Meghames, Chairman, Saudi Organization for Chartered and Professional Accountants, shared Saudi Arabia's successful four-phased transition from cash-basis to accrual-basis accounting from 2017-present as part of the Vision 2030. The Ministry of Finance supported the transition by establishing the Accrual Accounting Conversion Center (as stipulated in paragraph 5 of the Royal Decree No. 13059) to ensure business integration between the center and all government entities once the strategy and roadmap were developed. A comprehensive implementation strategy at the national, sectoral and entity level is key, where success depends on effectively syncing these plans, as demonstrated in Saudi Arabia.  
Other jurisdictions in the region are also transitioning to accrual-basis accounting but need capacity-building support from the international development community for training auditors on auditing IPSAS-based financial statements. Jamal Milhem, IFAC PAO Development Advisory Group member, added that in some countries in MENA, while significant progress has already been made via capacity-building support targeting governments' application of cash-basis IPSAS (e.g., the Jordan Fiscal Reform Project), support is still needed in the shift to accrual-basis IPSAS next.
We want to ensure that as more jurisdictions move to accrual-basis accounting, we capture valuable lessons learned and share these globally. For those either considering or in the process of moving to accrual, so much can be learned from the experiences of others. IFAC and IPSASB encourage suggestions for further resources and case studies; which can be submitted using our online form.  
Stay tuned for the next webinar in the series, scheduled to take place in 2023!
Video & Slideshow Resources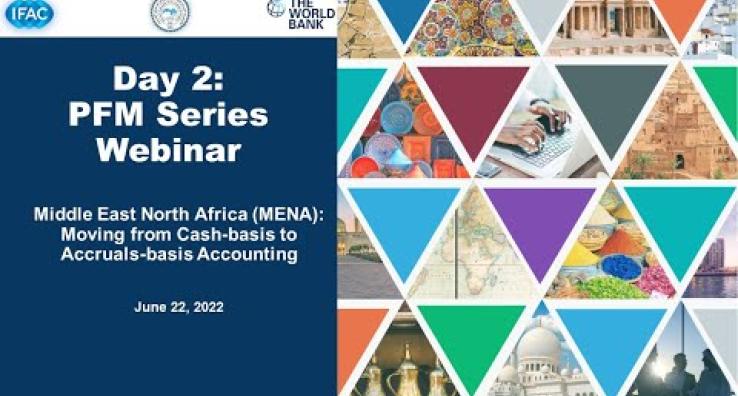 [English] Middle East North Africa (MENA): Moving from Cash-basis to Accruals-basis Accounting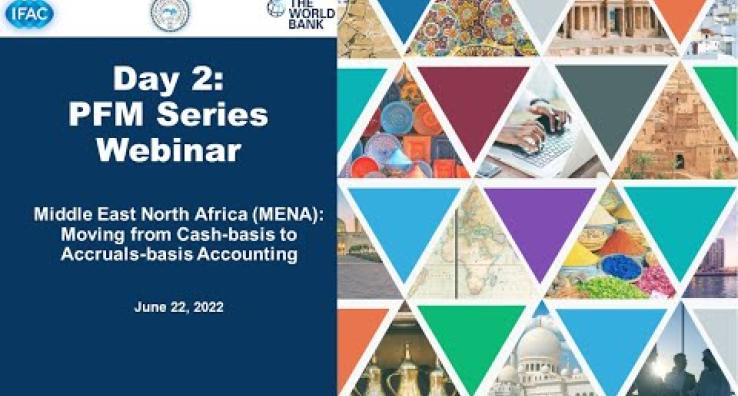 [Arabic] Middle East North Africa (MENA): Moving from Cash-basis to Accruals-basis Accounting
The series focuses on the twin goals of the World Bank Group: (a) poverty reduction and (b) shared prosperity, with the strategic objective of helping build capable, efficient, open, inclusive, and accountable institutions. The series also addresses IFAC's strategic objectives of (a) promoting the adoption and implementation of high-quality international standards; (b) preparing a future-ready profession; and (c) speaking out as the voice for the global profession.