Meet Rania Uwaydah Mardini, a member of the International Ethics Standards Board for Accountants (IESBA), a Senior Lecturer at the Olayan School of Business at the American University of Beirut (AUB) and an advisor to the United Nations Development Programme (UNDP's) Regional Bureau for Arab States. She served as a member of the International Federation of Accountant's (IFAC's) International Panel on Accountancy Education (2019-2022) and its International Accounting Education Standards Board (2017-2019) and chaired the latter's Public Sector Accounting, Reporting, and Assurance Task Force. Linda Lach, Director of Governance at IFAC, sat down with her to discuss the trajectory of her career as a professional accountant, and why financial literacy is so important to her.
Image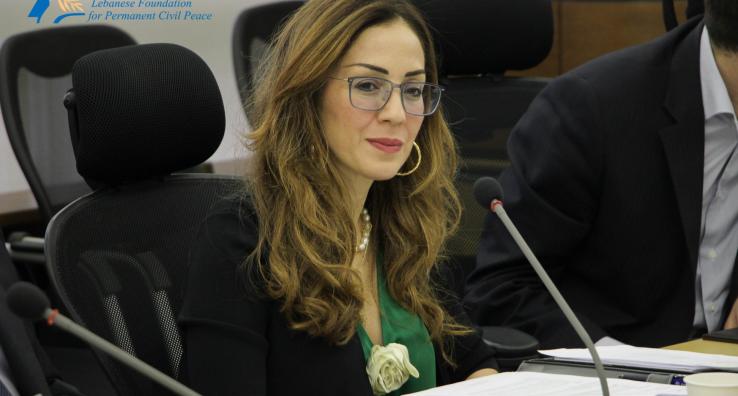 Linda Lach

(LL): Rania, you have an inspiring career. What motivated you to become a professional accountant?
Rania Uwaydah Mardini (RUM): Besides the fact that I've always been intrigued by the financial world and found it exciting, I joined the accountancy profession because I was seeking out a career that would offer me stability, security, and strong prospects. Very honestly, more than two decades later, I tell you that it has given me all this and more, including: a strong network of professionals, incredible learning opportunities and experiences, and perhaps most importantly, a sense of fulfillment. The accounting profession plays a critical role in the financial success, good governance, and sustainability of private and public sector organizations and economies; it's a pleasure and a privilege to be part of it.
LL: I am curious to understand why you believe financial literacy is so important. What motivated you to become an advocate for this cause? What has been the role of your accountancy education in fostering this interest/passion?
---
RUM: Financial literacy is, very simply, essential to everyone doing anything anywhere. At the end of the day, whether you are physician, lawyer, engineer, or chef, you are using your skills and talents to earn a living. It is therefore fundamental to recognize that every business and operational decision has financial implications. For example, should you buy or rent space for your restaurant, or other practice (legal, medical, etc.)? How much space do you need to pay for? How many staff members do you need to hire so as to optimize the use of your investments in resources? All these issues must be understood and evaluated to make a truly informed decision. At the end of the day, business and financial success is at the heart of sustainable operations. It is this conviction that motivated me to become an advocate for this cause, and my role has been exactly this: to try and change the misconception that financial literacy is only for accounting or finance professionals.
LL: You're a Senior Lecturer at the Olayan School of Business at the American University of Beirut (AUB). How can academics and educators support high-quality and relevant financial education and literacy?  
---
RUM: Academics and educators play a crucial role in developing curriculum and educational materials that promote high-quality and relevant financial education. It's important to focus on both aspects of curricula: content and teaching methodologies. It is essential to incorporate real-life examples, case studies, and interactive learning methods, to ensure that concepts are relatable, digestible, and intellectually stimulating. Students, and people more generally, typically shy away from accounting subjects because they find them difficult and often boring. I believe that, today, a good part of our role as academics and educators is to attract students to the profession. It's not easy, and we have to think out of the box and recognize that learning does not have to be restricted to the classroom. Extra-curricular activities, such as games and competitions with an accounting and/or financial literacy focus, can be a great way to learn through play and in teams. A fun way to learn is the best way to learn for anyone at any age.
To this end, academics and educators also support financial education and literacy through research and thought leadership - conducting studies, analyzing data, and publishing research that examines the effectiveness of different teaching methods, the impact of financial literacy programs, and strategies to improve financial decision-making. Providing evidence-based recommendations helps shape financial education programs.
LL: You're also a member of the International Ethics Standards Board for Accountants (IESBA) - what more can we do to enhance financial literacy on ethics and anti-corruption matters? Do you believe that education can be an enabler of zero corruption?
---
RUM: There's a lot more we can do, and it all starts with good education because education is empowering. It empowers individuals to: (i) realize that they always have a choice; and (ii) to make the right and ethical choice that avoids engaging in or falling victim to corrupt practices.
Financial education more specifically promotes transparency and accountability at both the individual and institutional levels, both of which are core to an environment that fosters good governance and a zero-corruption mindset.
There is therefore a lot to be done in the fight against corruption in terms of not only sharpening accounting and financial education, but advocating interdisciplinary approaches that, on the one hand integrate anti-corruption into accountancy, audit, and financial education more broadly; and on the other hand, combine this refreshed financial education mix with ethics, law, governance, health, construction, etc. Corruption thrives in environments where there are information gaps. Such an interdisciplinary approach to education is an important first step towards helping individuals and organizations to develop a holistic perspective and be better equipped to navigate complex ethical dilemmas.
LL: Global surveys show low levels of financial literacy worldwide. Meanwhile, our societies are getting increasingly digitized, with differing degrees of development and risk appetite across the globe. Do you think digital can be an enabler of dissemination of financial education and literacy?
---
RUM: Definitely. Digital platforms, including online courses, webinars, educational websites, and mobile applications, can be a very effective tool for enhanced global financial education and literacy. Digital platforms enable individuals from diverse backgrounds, including marginalized communities, those with limited financial means & limited time availability, and those who live in remote geographic locations, to overcome barriers, whether they relate to time, location, culture, or financing and allow for self-paced learning. These platforms offer convenience and the ability to focus on specific knowledge areas or skills. As such, they have become invaluable for an individual who is on a journey of continuous professional education and growth.
 LL: Do you have any recommendations on how people can improve their financial management?
---
RUM: The key is really to be convinced that those skills are needed. Once the conviction is there, the skill will be acquired and, just like any other skill, it needs to be continuously improved and honed. How this is done will depend on what suits the individual best: their ambitions, what they enjoy most as a learning methodology (online or in person; individually or in groups, reading or listening, etc.); their schedules; other responsibilities; finances; proximity to learning resources; and crucially, family support (or lack thereof). It is extremely important that we enjoy what we are doing and not feel burdened by it but rather look forward to it. And so, the options are many. Depending on one's circumstances, digital options may or may not be the optimal choice. They are not a substitute for in-person education, but they can certainly complement it, and they are always an alternative. There are therefore no excuses not to learn. As the famous quote (commonly attributed to Zig Ziglar) goes, "If you are not willing to learn, no one can help you. If you are determined to learn, no one can stop you".
Interested in being featured? Email us.