Image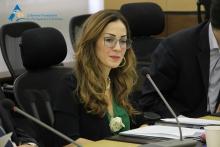 Rania Uwaydah Mardini
Rania Uwaydah Mardini became a member of the International Panel on Accountancy Education (IPAE) in September 2019, nominated by Nexia International and having previously served on the International Accounting Education Standards Board and chaired the latter's Public Sector Task Force.

Rania is a full-time faculty member of the Olayan School of Business (OSB) at the American University of Beirut (AUB) and an advisor to the UNDP's Regional Bureau for Arab States and to the Task Force on INTOSAI Auditor Professionalization (TFIAP). She has also served as a consultant to UNDP's Anti-Corruption and Integrity in the Arab Countries (ACIAC) program and had started her career at Ernst & Young (EY).

Between 2013 and 2020, Rania was heavily engaged with the Lebanese Transparency Association, the Lebanese chapter of Transparency International as an Audit Committee Member, its Treasurer, and finally its Vice-Chairperson. Rania holds a BBA (with Distinction, 1996) and an MBA in Finance (1999) from AUB. She is a CPA licensed in California and Lebanon, and is certified in Public Financial Management (CertPFM), Fraud Examination (CFE), and corporate governance (Certified Corporate Director).