Insights from IFAC's Professional Accountants in Business Advisory Group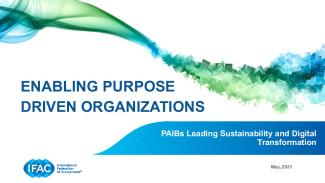 Purpose, people, profitability, and the planet must be considered in the evaluation of business success.
At its March 2021 virtual meeting, IFAC's Professional Accountants in Business Advisory Group considered the key global trends impacting the future readiness of the accountancy profession. The report, Enabling Purpose Driven Organizations, summarizes the key insights and learnings from the discussions amongst this global group of business and finance leaders, drawing from their diverse experiences and expertise. The accountant's role in value creation, sustainability, and tackling climate change were key topics of discussion, as well as the rapidly changing face of the finance function due to accelerated digitization in procurement and supply chain, and the changing nature of work and remote finance. 
The PAIB Advisory Group has also been exploring public sector and PAIB priorities post COVID-19. Members of the PAIB Advisory Group working in the public sector participated in IFAC's recent global public sector roundtable, From Crisis to Recovery: Public sector priorities to support COVID-19 recovery, which focused on how PAIBs have been a key part of the frontline response to the pandemic, helping governments and other public sector organizations direct emergency expenditure to priority areas, and reinforce trust in public services and spending amidst heightened demand for transparency and accountability. 
"It is important we continue to drive forward the key areas of the PAIB agenda and share our learnings across the global accountancy profession. Together, we can enable a PAIB-relevant profession that is attractive to the new generation entering the workforce," says Sanjay Rughani, IFAC PAIB Advisory Group Chair.
Case Studies & Additional Insights