In June 2023, IFAC hosted a panel with seven students and young professionals in the field of finance. Of them, six had either recently received a diploma in accounting, or were currently studying accounting. IFAC CFO Helen Partridge led the discussion, which focused on attractiveness of the profession—that is, whether the profession is able to attract and retain sufficient talent to meet market demand. This June 2023 panel discussion focused specifically on what brings young people to accounting, and what can turn them off. Sharing their insights on what they believe incentivizes young people today, the panelists' experiences in studying and beginning a career in accounting sheds light on what it is like to enter the profession today.
On Why They Joined The Profession
Yasheen Jugdawooh is an Audit Manager at Deloitte in Johannesburg, South Africa. He was a South African Institute of Chartered Accountants (SAICA) Trainee Trailblazer Finalist who entered the profession because he enjoyed studying math and "making well-calculated decisions." The fact that the accounting profession commands respect and offers international exposure was also immensely appealing to him.
Mădălina Cirstoniu recently completed her qualification with the Corpul Experților Contabili și Contabililor Autorizați din România (CECCAR). She explained that the opportunity to work with evolving technology excited her about joining the accounting profession, and that she looks forward to being a part of the evolution of the profession.
Nicholas Cecco is an Accounting and Information Systems student at Virginia Tech in the United States. His high school offered a full-year accounting class that he found interesting, especially when he found out about the range of career opportunities available to accountants.
Gisselle Gutiérrez Aranda, who received her accounting diploma just days before the panel conversation, is based in Guadalajara , Mexico. She mentioned that although her mother is accountant, she looked at all the fields associated with business before deciding she liked accounting the best, because she'd always liked math ("but not the kind of math you use in engineering"). She was compelled by the type of analysis accountants get to do; she liked that accountants analyze, for example, income statements, and then explain them to investors. "I like to collaborate to create strategies," she explained.
Prakriti Aryal, based in Kathmandu, Nepal, is a student-member of the Chartered Accountants of Nepal. She mentioned that the chartered accounting course in Nepal is challenging, but that completing it means that you have stability and a good job. Like Nick, she was intrigued by the many applications professional accounting has.
Jess Insall joined the panel from Scotland, where she is a Crypto Accountant and ACCA student. Her beginnings in the profession were more serendipitous, saying she "fell" into accounting. "I was 17 and I wanted to train on the job, and accounting was an option. I've been doing it for 4 years now." She chose accounting because she knew it was a stable job with room for career development and geographic mobility. She mentioned that she is Gen Z, as are many of her friends. They worry about being able to afford housing and support a family. Accounting, she said, has allowed her to have fewer financial stressors than her peers.
Rebecca DePietro is a managerial economics major at Bentley University in the United States. Though not studying accounting or planning a career as a professional accountant, she clarified why she believes students choose not to study accounting. "I have a lot of friends who are accounting majors," she said. "I think when you see people change majors, it's because their heart's not in it. My friends who have changed majors have done so because the math courses are heavy on math. They're taking 5 courses a semester, and three or four of those are all math. Then repeat that six times for undergrad—that's a lot."
Image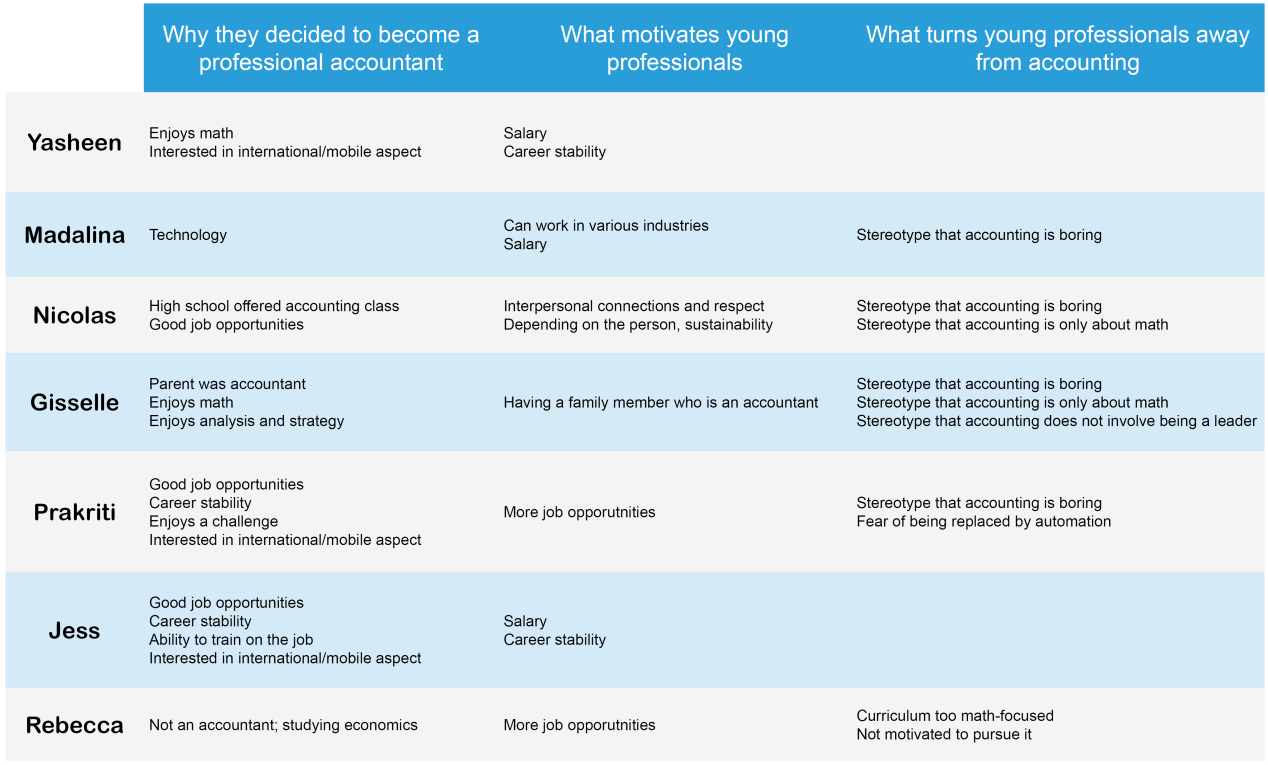 On the difficulty of qualifying in their jurisdiction
According to Yasheen, the pathway to becoming a CA (SA) in South Africa is quite rigorous. It's a 7-year journey, equivalent to becoming a doctor in SA. After their Year 12 in school, students complete an undergrad degree for 3 years. This is followed by a 1-year diploma (called an "Honors in Accounting"). They then write the first qualifying board exams, which is an 8-hour exam over 2 days. After that, they serve 3 years of Articles. In the second year of Articles, students take their second qualifying board exam (which is again 8 hours long). Once they finish Articles, they can register with SAICA as a CA (SA).
A positive outcome of the rigor of this program, Yasheen mentioned, is that the pursuit of the profession commands respect. "The standards should not drop," Yasheen argued, "because we are custodians of the capital market. The profession was in the spotlight for a lot of negative issues in the past. We need to increase the trust of the stakeholders."
For Madalina, the journey to become a professional accountant in Romania meant 3 years of college at an economic academy, followed by a 2-year master's degree and a 3-year internship at CECCAR. Each year at CECCAR contains 2 semesters, with 3 to 4 exams and 2 projects. At the end of the 3 years, students have aptitude exams on 10 subjects (accounting, auditing, tax, law, etc.) "It was difficult because I work and have a child," she said. "But at CECCAR I accumulated a lot of knowledge about accounting and tax." 
Prakriti joined chartered accountancy right out of high school. She said that in Nepal, there are 3 levels: CAP 1 (a 6 -month program), then CAP 2 (a 9 -month program) and finally CAP 3 (3 years of Articleship) followed by a final exam. In CAP 2 and 3, there are separate exams other than finals to remain eligible for the final exam. Prakriti said that she is taking the CAP 3 exam now and has to pass it or repeat all subjects if aggregate 50% is not achieved. "It was helpful to have early professional experience with CA members  to see the rewards of the profession," she said. "The first two levels prepare you for the profession because the professors share their knowledge. At CAP 3, you know you can do it."
Jess said that if she'd had to take the university route, she probably would not have pursued the profession. In the UK, through ACCA, she took 13 exams in total, but could start them without a degree and could book into one of the exams every 3 months. According to Jess, there are opportunities to take classes, but she preferred self-study for her exams. The journey was not painful for her; after a few exams she knew what she had to do in order to prepare for them. This flexibility was extremely important to her. She will be fully chartered at age 21.
On how technology can change the way we work
Madalina sees emerging technology as an important tool for the profession. "Technology is good for us," she said. "Professional accountants need to be trusted and capitalize on information to ensure companies can grow. Innovation helps accountants find better solutions." As intricacies arise from globalization, she emphasized that she believes professional accountants can prepare for new levels of complexity with new tools.
Similarly, Nicholas believes that technology makes the profession more efficient and keep accountants competitive with other fields. Cybersecurity, he pointed out, is especially important for accountants to be familiar with because lack of digital security has the potential to damage accountants' reputations. 
On the skills essential to the modern professional accountant
According to Jess, the soft skills have evergreen importance. "You need to know how to have difficult conversations, not get too emotionally invested in clients, be independent, and follow strict standards." But data analysis is not a skill to be ignored, especially when working with crypto assets. "Lots of clients have 100,000 taxable events in a year in crypto. But they don't keep any records!" Data forensic skills and data analysis are necessary to find where there are holes in the information. "We have the strong ethical fundamentals, but we also need the technical skills. Our job is to be impartial, so it's good to explain data to clients, but we don't need to write the story. The way we can add value is cleaning up the data and delivering it. We are independent advisors."
Madalina agreed that critical thinking, professional judgement, and attention to detail are timeless skills. "Those serve you well no matter where you go," she said. "They help make better decisions."
On CFAs
"I had a look at it," said Jess. "It's much narrower [than accounting], so if you know you want to be a financial advisor, it's great." But accounting has the ability to cover most of the financial matter in the CFA (in less detail) and also apply more broadly to other fields.
On final thoughts for Education Directors
Prakriti: "Don't be scared! Data is the new code, and financial information will always be held by accountants. The idea of AI coming and taking away our job is a myth."
Rebecca: "Keep the profession forward-thinking. You're going to keep growing."
Gisselle: "Go for the challenge. Try new things. We create value to the world, not just make profits."
Nicholas: "The accounting profession is dynamic and wide-ranging. Tell students that there are opportunities for people interested in sustainability and entrepreneurship. Market to each student's passion."
Madalina: "This is a global profession providing opportunities for cross-border collaboration. We need smart accounting for a  smart economy."
Yasheen:  "Go forth and ensure purpose beyond profit. Give young professionals a seat at the table, they add value."
Many thanks to the panelists who joined us for this discussion. IFAC encourages anyone interested in learning more about the professional accountancy talent pipeline to view IFAC's EdExchange video series; it features a number of discussions on attractiveness and education with experts in a range of areas.