Insights from IFAC's Professional Accountants in Business Advisory Group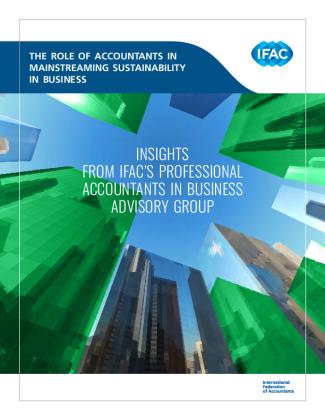 Achieving sustainability requires technology and innovation to transition and could be disruptive. An integrated mindset is key.
At its October 2021 virtual meeting, IFAC's Professional Accountants in Business Advisory Group considered how accountants are contributing to value creation and sustainability in their organizations in both the private and public sectors. The report, The Role of Accountants in Mainstreaming Sustainability in Business, summarizes the key insights and learnings from the discussions amongst this global group of business and finance leaders, drawing from their diverse experiences and expertise.  
Having an integrated approach to financial and sustainability-related information under the remit of the CFO was a key topic of discussion. This leads to better decisions that deliver long-term value to stakeholders and society, while also ensuring financial returns to investors. The group also explored ways the potential opportunities offered by digital assets, including to improve efficiencies, increase transparency, and spur innovation towards societal goals, could gain legitimacy.  
"The need for CFOs and finance functions to contribute strategically as value partners is increasing to advance sustainability," said Sanjay Rughani, PAIB Advisory Group Chair. "By sharing our learnings as a profession, we can continue to elevate our focus and actions on higher value activities to support and empower more professional accountants to take on increasingly strategic roles." 
Case Studies & Additional Insights