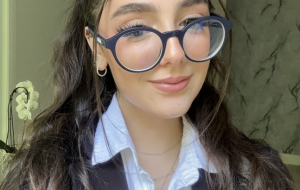 What attracted you to IFAC when you joined?
The Internet Technology (IT) department had outlined specific and timely goals and I was attracted to the structure and hands on nature of the projects assigned to interns.
The department is heavily involved in various aspects of IFAC's functionality and development, and this gives me a much broader learning experience than just your typical IT troubleshooting problems. I was able to get hands on experience on analyzing key metrics and performance indicators, and website optimization
What types of projects did you work on?
I worked on aiding the transition from Google Universal Analytics to Google Analytics 4, and providing updated documentation on best practices and guidelines. I collaborated with consultants to retrieve relevant data regarding user behavior and journey, and create actionable recommendations and achievable goals for the IT and Communications teams.
I also joined when IFAC was working with a new helpdesk service, so another goal I had was understanding their day to day and how they are able to support IFAC through various means.
Finally, I worked with a team of interns to create a presentation on the state of accounting as a profession and how to make it a more attractive career option to college students.
What's the most valuable skill you gained from your internship?
IFAC's internship program has allowed me to hone and develop a variety of valuable skills. One skill that is particularly crucial to my career is being able to create accurate, detailed, and concise documentation that explains complex topics in simpler terms. Making difficult ideas and information easily digestible is a critical ability and used in a variety of roles.
What have you learned about the accounting profession that surprised you?
As someone who has entered IFAC's internship program with no accounting knowledge and no intention of pursuing accounting, I have learned how diverse and varied the field of accounting is. The public perception of accounting is so limited, and the reality is that there are a lot of different specialties and areas in accounting, and the skillset of an accountant is needed everywhere. I have developed a newfound appreciation for the profession and see it as a viable career option for many different people with many different interests.
What advice do you have for prospective interns at IFAC?
Take advantage of all the opportunities that IFAC offers! The staff here are very knowledgeable and always willing to pass on some of their experience and tell you about their journey. IFAC has something for everyone so be vocal about what drives you and interests you, aspects of IFAC you would like to hear more about, and areas where you would really like to roll your sleeves up and gain hands on experience, and your internship will be much more fulfilling.