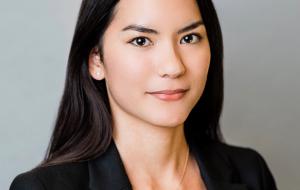 What attracted you to IFAC when you joined?
As an aspiring accountant and CPA, IFAC naturally drew me in, particularly with its global reach and network. Additionally, the opportunity to work alongside experienced accounting professionals and experts in the field was also very exciting. The position I applied to at IFAC, and specifically at the International Public Sector Accounting Standards Board (IPSASB), was very different from any other position I was considering at the time. All of my friends in university were interning at accounting firms or public companies, so this position at IFAC felt unique and interesting as I wasn't familiar with the standard-setting world. It was a perfect place to start my career and gain insight into the industry.
What types of projects did you work on?
While interning for the IPSASB I had the opportunity to work on several of the IPSAS standards the team was developing at the time, including Leases and Financial Instruments. This included helping the Directors compile and sort comments received on exposure drafts of the standards, proofread drafts, research different accounting topics related to relevant financial reporting issues, etc. Through working on those projects, I was able to better understand complex technical accounting topics and get insight into what the most important issues were to stakeholders. Since my internship, both of the aforementioned projects were completed. It's a great feeling knowing that I played a small part in the development of those standards and that they will be used by public-sector entities all around the world.
I also helped to plan and prepare for the IPSASB's meeting in June of 2019. This included preparing meeting materials, coordinating with Board members, taking notes, etc. The IPSASB Board meets quarterly to further the development of public-sector standards, and the members from all around the world gather in one place. I had the opportunity to meet several of the Board members as well as their technical advisors, which was very exciting!
What is your current position?
My current position is at KPMG as a Senior Accountant in the Energy and Natural Resources audit group in the Toronto office. Most of my clients are in the mining and exploration industry, so I've had the opportunity to travel and visit mine sites, which has been very interesting!
What valuable skills did you gain from your internship and how did they prepare you for your current role?
During my internship at the IPSASB, I had the opportunity to significantly develop my communication skills. This is a skill that is very important in my current role, as I manage a team of staff and work with several other internal teams to successfully complete my work. Effective communication is also critical when dealing with clients and external contacts, which is something I do frequently in my role.
Another key skill I developed during my internship was time management. I worked with multiple individuals and had to manage multiple tasks with different levels of priority and deadlines efficiently. This skill is extremely important in my current role, where I'm responsible for overseeing audit engagements from start to finish and working within tight deadlines.
What have you learned about the accounting profession that surprised you?
As I mentioned above, I really didn't know what the process of developing accounting standards was. Of course, I had learned about different accounting standards in university but never about who actually wrote them and how they came to be. I found the process of developing accounting standards to be very interesting, with input from accounting professionals from all over the world. The process from first draft to final standard can take many years! I learned that the accounting profession is always evolving and adapting to changes in the world. As accountants, we are always learning and dealing with new issues.
I also learned that accountants are not always dealing with numbers! Developing an accounting standard involves research, writing, presenting, compiling and responding to comments, etc., which was very different from what I originally thought an accountant would do.
What advice do you have for prospective interns at IFAC?
Make the most of the networking opportunities available to you at your internship! You will be working alongside experienced professionals who have a lot of insight into the industry and can offer guidance career-wise. A big part of why I am at my current position is due to the connections I made during my time at the IPSASB. Take this opportunity to discover what you are interested in and to learn new skills.
The internship experience is what you make of it – the more you put into it, the more you will get out of it. Say 'yes!' to every opportunity that is given to you if you can and have a positive attitude as that can take you very far. Try new things and don't be afraid to fail – this is where you learn the most.
I have very fond memories of my time at the IPSASB, so also make sure to be present and enjoy the experience.