Image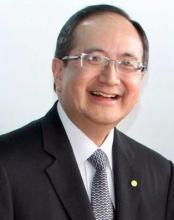 Cesar Cheng
Cesar Cheng was appointed as a member of the IFAC Nominating Committee since January 2021. He was nominated by the
Instituto Nacional de Contadores Publicos (INCP) Colombia.

Mr Cheng is currently the Chairman of the Board of Directors of Deloitte Spanish Latin America (2019-2021). He has been
National Managing Partner of Deloitte Colombia (2008-2018) and Deloitte LATCO Assurance and Advisory Services leader
(2005-2007).

He studied Accountancy at the Universidad del Pacifico in Lima, Peru. He has also been a professor and lecturer at Universidad del Pacifico in Lima, Peru and at the Deloitte´s  Center for Professional Education in Bogota, Colombia. He is a strong supporter of corporate social responsibility activities.