Image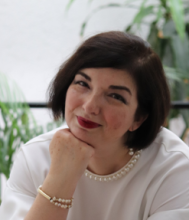 Gabriela-María Farías-Martínez
Dr. Gabriela-María Farías-Martínez is a member of IFAC's International Panel on Accountancy Education since September 2019, nominated by Instituto Mexicano de Contadores Públicos (IMCP) where she is a member of its Education Commission.

Dr. Farías-Martínez is a Director of Faculty Development of the Business School of Tecnológico de Monterrey and Professor of the Academic Department of Accounting and Finance. She is a Doctor in Educational Innovation from Tecnológico de Monterrey, with Master's degrees in Administration and Master's in Marketing from EGADE Business School, specializing in accounting from the University of Texas at Dallas.

Dr. Farías-Martínez has been recognized as a distinguished professor of Accounting by the state of Nuevo León, Mexico, and by the firms Deloitte and EY. She has received recognition for her research in accounting education by the Universidad Nacional Autónoma de México (UNAM). 

Dr. Farías-Martínez is a Certified Public Accountant by the Mexican Institute of Public Accountants (IMCP), a Certified Internal Auditor and certified in Internal Control Evaluation by the Institute of Internal Auditors (IIA).