Image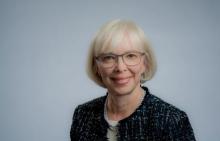 Joy Thomas
Joy Thomas joined the Nominating Committee in January 2022 after being nominated by CPA Canada. Previously, Ms. Thomas served on IFAC's Board from 2014 to 2020, during which time she also served on the Governance and Planning and Finance Committees.
From 2013 until her retirement in 2020, Ms. Thomas worked for CPA Canada as Executive Vice President to 2015 then as president and CEO. CPA Canada represents more than 220,000 members operating in a complex and global accounting ecosystem as a convener, facilitator, contributor, and disseminator of information that advances the profession. The organization works closely with domestic and international accounting bodies to champion best practices that benefit business and society.
Prior to joining CPA Canada, Ms. Thomas was president and CEO of The Society of Management Accountants of Canada and played a key role in the historic unification of Canada's three legacy designations under the CPA banner. From 2018-2020 she served as chair of the board of the Global Accounting Alliance; she is also a past member of Canada's National Steering Committee on Financial Literacy.
In 2005, Ms. Thomas was named a fellow of CMA Canada. She was recognized as one of Canada's Most Powerful Women: Top 100 Award winners for 2018 by the Women's Executive Network and selected as a 2019 Most Powerful Women in the Accounting Profession by the American Institute of CPAs and CPA Practice Advisor magazine.