Image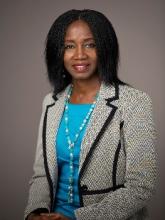 Adenike Oyeyiola
Country
United States of America
Adenike (Nike) Oyeyiola represents the World Bank as co-Chair of the MOSAIC Steering Committee of IFAC. She manages the World Bank global effort to strengthen public accountancy organizations including the Foundational Accounting and Financial Management Skills Enhancement Program which aims at increasing the number of suitably qualified and certified accounting technicians to serve in the private and public sectors in Africa.

Nike is a Practice Manager in the Governance Global Practice of the World Bank. She leads a team of highly professional staff working across all regions on core governance themes including Public Expenditure and Financial Accountability; Public Investment Management, Domestic Resource Mobilization, Governance of State-Owned Enterprises; Corporate Financial Reporting; financial management in Human Development Sectors; Governance of Infrastructure; and fiduciary assurance. Prior to joining the World Bank, she worked for 11 years in Ernst & Young (now EY) in Nigeria on assurance and advisory services up to the managerial level, with a focus on high risk assurance and consulting tasks.

Nike is a Chartered Accountant, member of the Institute of Chartered Accountants in Nigeria. She has a Master of Science degree in Public Policy and Management from University of London, a Master of Science degree in Business Administration and a Bachelor of Science (Hon) Degree in Economics, both from the University of Ibadan in Nigeria.