Image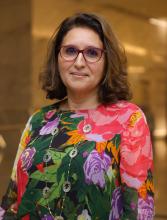 Asmâa Resmouki
Job Title
President, IFAC
Ms. Asmaa Resmouki has more than thirty years of experience in the profession, including serving as audit partner in the large auditing firms (Deloitte and EY) in Morocco. In 2020, she started her consultancy practice firm where she has been assisting different organizations in projects relating to the profession and to advisory services.
Ms. Asmaa Resmouki became IFAC President in November 2022. Prior to becoming President, Ms. Resmouki was appointed Deputy President in November 2020 after serving on the IFAC board since November 2017, originally nominated to the board by the Ordre Des Experts Comptables—Morocco. As Deputy President, Ms. Resmouki chaired the IFAC Planning and Finance Committee, having previously chaired the board's Governance Subcommittee prior to her election as Deputy President.
Ms. Resmouki is a Past President of the Pan African Federation of Accountants (PAFA). She served on the PAFA Board since 2011, as vice president and chair of the Planning, Human Capital, and Financial Committee from 2013 to 2015 and as president from 2015 to 2017. Asmaa had also served in voluntary roles in the Moroccan accounting profession from 2008 to 2014, especially in Quality Control field.
Thanks to her diverse and wide experience, Ms. Resmouki has developed as a thought leader in the development and strengthening of the accountancy/auditing profession, as well as an expert in good corporate governance and best practices to manage and lead robust Boards and committees.