Image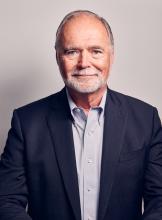 Kevin Dancey
Job Title
Chief Executive Officer, IFAC
Kevin Dancey, CM, FCPA, FCA became IFAC's Chief Executive Officer in January 2019.
Mr. Dancey has a long history of leadership in the accountancy profession as well as in public service. As Canadian Institute of Chartered Accountants President and CEO, Mr. Dancey led the Canadian accountancy profession's unification, becoming CPA Canada's first President and CEO after the merger. His experience also includes serving as the Assistant Deputy Minister, Tax Policy, at Finance Canada (1993-1995); on the Canadian Auditor General Panel of Senior Advisors (2006-2015); and as an Auditing and Assurance Standards Oversight Committee member (2017-2018) and CCAF-FCVI Inc. board member (2008-2013).
Mr. Dancey's international accountancy experience includes the Public Interest Oversight Board (2017-2018), the IFAC board (2006-2012) and the Global Accounting Alliance (2006-2016), where he was also Chair from 2008 to 2012.
Prior to joining the Canadian Institute of Chartered Accountants, Mr. Dancey was PwC's Canadian Senior Partner and CEO and was a PwC Global Leadership Team member from 2001-2005. He was national tax practice leader for Coopers & Lybrand before the merger with Price Waterhouse.
Mr. Dancey previously chaired Finance Canada's Departmental Audit Committee (ended on December 31, 2022) and was a member of the Advisory Board of the CPA Canada Martin Family Initiative, which mentors Canadian indigenous youth, having previously served as the National Coordinator for the program. He is also a Senior Fellow at the CD Howe Institute, a Canadian research institute dedicated to raising living standards through economically sound public policies.
Mr. Dancey is a Fellow at CPA Ontario, where he first qualified, and a member of CPA Canada. He holds a Bachelor of Arts (Hon.) in Mathematics & Economics from McMaster University (Canada) and an honorary Doctor of Laws from the University of Waterloo.
Mr. Dancey is a member of the Order of Canada.