Image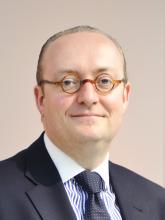 Lionel Escaffre
Lionel Escaffre is professor at the University of Angers and a registered auditor at the CNCC (The French institute of statutory auditors in Paris).
For 20 years he has always worked for the professional education and training of accountants both for the initial education and the CPD.
At the University of Angers, Pr. Escaffre has created in 2007 a master's in accounting and Audit which is currently relocated also in Paris and Dakar in continuing education.
Within the CNCC, he's member of the Education and training commission and he carryout trainings in audit and accounting in France and more widely in Europe.
His main areas of specialization are the auditing of listed companies, the valuation of intangibles and IFRS. 70% of the firm's clients have international activities. His company ("Groupe Y") is member of the NEXIA network corporate.
Pr. Escaffre has also developed an academic research activity by creating an ACCRA journal (Audit Accounting Control Applied Research) and wrote many papers on the impact of the application of IFRS in the world. he also participates in the work of the accounting standard setting body in France through his research publications.
He's currently involved in the work to reform the education leading to the chartered accountants' qualification in France.