Image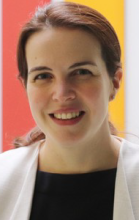 Vicky Rock
Job Title
Managing Director of Finance, Performance and Portfolio
Vicky Rock is the Managing Director Finance, Performance and Portfolio for the UK House of Commons .Prior to this, she held a number of roles at HM Treasury, most recently as Director of Public Spending  
She has also served as Deputy Head of the Government Finance Function, which focuses on investing in people, sharing best practice and developing frameworks, guidance and tools to support more than 10,000 people working in finance across government. 
Vicky began her career working mainly on public sector audit at KPMG, where she trained and gained her CIPFA qualification in 2009. She moved to the Treasury in 2011, initially working in an accounting role before moving into public spending, and then from the finance team into the public spending group, working on setting financial reporting rules for the government and providing advice on financial management. 
In 2014, she began a short secondment to help set up the British Business Bank before returning to the Treasury in July 2015 as a deputy director, overseeing all aspects of government financial reporting and the whole of government accounts. After four years in this position, she was appointed as Director, Public Spending Group, which involved leading the teams responsible for delivering high-quality government financial reporting and data in order to improve decision making and accountability across government.