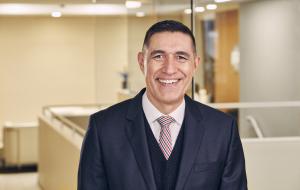 What attracted you to IFAC when you joined?
When I was interviewing, I thought it was an interesting place trying to do good things. I liked the fact it was very international in its work—I enjoy travel, I enjoy meeting different people, and experiencing different things and IFAC offered that opportunity. With a lot of international engagement, IFAC connected me with people from around the world. It provided an arguably more unique opportunity to have exposure to a rich diversity of people, ideas, cultures, and I guess what comes from that—the challenges of trying to bring all those things together and get good things done. I also really liked IFAC's strong work ethic.
Were you surprised by anything once you became an employee?
Once I became an employee, I was very impressed with how polished an operation IFAC is. It achieves a lot in the context of the resources it has available. I characterize IFAC's ability to get things done as the "IFAC hustle." To this day it still impresses me and I'm proud to be a part of it.
I also was pleasantly surprised with respect to the strong culture of cooperation and true family feeling—a success for one is a success for all. You never feel like you are alone or only responsible for your lane of work. Be prepared to roll up your sleeves and jump onto someone else's lane if they need you, because that's how things get done sometimes. And I like that.
I also was really impressed how much IFAC embraced—and I think continues to further embrace—the notion of being 'you' in the workplace. Being your 'authentic self' can sometimes, in my view, be a bit of an overplayed corporate speak in the workplace, but at IFAC I believe there's a sincere effort to provide a person with a safe space to be themself.
What is your role at IFAC?
My formal title is Director, Forum of Firms. Where IFAC brings together the public accountancy organizations around the world, the Forum of Firms brings together the larger audit firms. The goal of the Forum of Firms, or what we call the "FoF" internally, is to further advance audit quality.
The FoF's main activity is organizing several activities around the globe each year bringing together those firms together with important stakeholders—for example the standard setting community, the regulatory community, IFAC, and others—to engage, discuss, and support each other to further advance audit quality globally.
I'm in the middle of that which includes further fostering trusted relationships with stakeholders, event organization, and bottom line making sure these things just happen. Over and above the external facing to-dos, I am also responsible for all the operational aspects of the Forum of Firms, all the back-office stuff that are also important for the smooth operation of the FoF.
What does a workday look like for you?
My day to day I'm glad to say is, people, people, people. I deal with people in various capacities from operational logistics to planning and executing FoF outreach. I regularly engage with stakeholders from the standard setting community, the regulatory community, IFAC, and more.
I also do a lot of engagement and relationship management with the representatives of the firms that are members of the FoF. Like any large group, there are dynamics and relationships that are important and require thoughtful attention; I am central to that role to make sure that things get done.
What's your favorite part about your job?
Easy - people, people, people. I enjoy working with the people my role puts me in contact with and building and growing trusted relationships (and friendships too!). At IFAC, it's good to know that when the work gets tough, you have their support. We always get there in the end. Bottom line, my favorite part of my job is the people.
What's the most unique part about working here?
The opportunity to learn and engage and be truly on the cutting edge of so many important issues that are impacting the global accounting profession–which in turn has an impact on the broader society. You get to be a part of that if you want to. An added layer of that is that in getting involved, you get to meet some of the most amazing people and minds from around the world.
What kinds of resources have you taken advantage of?
It all comes down to people and the relationships that I've been fortunate to have made over the years. With many great people from around the world—both within and outside of IFAC—I've been lucky to make trusted friends in both my professional and my personal life.
How has your career grown since starting at IFAC?
In the formal sense, I started as a manager many years ago involved in writing standards out of IFAC's Toronto office. I have moved around a little (now in the New York office) which has given me insight into the organization outside my current lane. My career has now grown to be in a role where I am in the middle of managing important stakeholder relationships, providing leadership and, I hope, setting a positive example amongst both my peers and anyone who reports to me.
In terms of the growth for me more generically, IFAC has given me the opportunity to strengthen my skills when it comes to prioritizing and managing both people and projects. It has also taught me to be more self-confident and self-trusting in both my ideas and my abilities. As my responsibilities have grown, there has been an increase in accountability and with that the potential for added stress which I have learnt to manage–effectively managing stress is a lifelong skill.
Being with IFAC has also enhanced my paradigm. I'm a very positive person by nature but being with IFAC has further fortified my belief in "can do." IFAC is very much a can-do organization. If you are a problem solver and believe in the glass half full, that will provide you with a very solid springboard coming into IFAC.
What would you do for a career if you weren't doing this?
I actually had a conversation with a friend the other night at dinner about this. I think I might have tried to become an airline pilot and if not that, certainly something to do with people whether it be in a formal corporate sense of relationship management or helping people. Not to sound cheesy, but something to make this planet and humanity a little better, if I can.
I do a lot of volunteering on the side helping people, that's something that I believe in. I have a very strong sense of community. I've been volunteering with the Trevor Project for over 10 years. The Trevor Project provides crisis support specifically focused on LGBTQIA+ youth, though we will help anybody in need. Prior to the Trevor Project I had been involved in other volunteer activity both in New York and in Toronto, Canada.
Where is your favorite place in the world?
Outside of being home at my apartment in New York, I'm always excited to return home to New Zealand. While much of my life is now here in U.S. (I left New Zealand in 1999) there's always something special to me about returning to where you're from and reconnecting. It's very grounding. On the lighter side, I really love Paris and also pretty much anywhere that has a beautiful beach and sun… but no mosquitos.
How do you spend your days off?
On my days off, I enjoy doing the regular home stuff whether that be reading the paper or having friends over for dinner or lunch. I like entertaining or just watching a good movie. My husband, who is originally from San Francisco, and I both come from large, close families. We regularly visit them or they visit us. That's a great way to spend time—connecting with those you love.
Of course, in New York, there's no shortage of things to do here without even spending a cent. We quite often, certainly in the warmer months, do a lot of walking the city. I guarantee you; you can go for a walk in New York and New York will always dish up a surprise whether it be a street fair, a unique store, something crazy happening on the sidewalk… there's always something happening in New York City. My husband is a big theater fanatic, so we do a lot of theater, taking advantage of it all being in front of our doorstep.