Image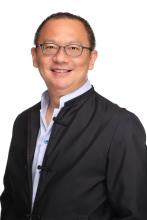 Themin Suwardy
Themin Suwardy is the Associate Provost (Postgraduate Professional Education) with oversight responsibilities for all Singapore Management University (SMU) Masters programmes, which attract more than 1,500 student each year. Immediately prior to this role, he was Dean, Postgraduate Professional Programme (2016-2021).
Mr. Suwardy joined SMU in 2001 and served as Associate Dean, School of Accountancy (2002-2013) and was the founding programme director of Master of Professional Accounting (2006-2016). Prior to joining academia, he was an auditor with KPMG Peat Marwick after starting his academic career at Monash University, Australia.
Mr. Suwardy has received over 20 SMU and international teaching awards, including SMU Best MBA Core Teacher Award five times, EMBA Most Outstanding Faculty Award four times, and three SMU university-wide teaching awards. He was a recipient of the HP Mobile Technology for Teaching Award (2004), the inaugural CEEMAN's Champion Award for Management Teaching (2010) and the IBM Faculty Award (2017). He was accorded Republic of Singapore's Public Administration Medal (Bronze) in 2011 for his contribution to education.
Mr. Suwardy is an active member of the accounting profession through his extensive involvement in numerous professional bodies over the years. He was the Singapore Division President for CPA Australia (2013-2014), a Governor of IIA Singapore (2009-2011), Vice-President of the International Association for Accounting Education and Research (2009-2013), and other committee appointments in various professional bodies. In 2015, he was conferred the Lifetime Achievement Award by CPA Australia for his significant and distinguished service and contributions to the accounting profession.
Mr. Suwardy is currently Chairman, GMAC Board of Directors and Vice-Chair, SATA CommHealth. He is a member of Singapore's GST Board of Review. He has consulted and worked with Accounting and Corporate Regulatory Authority of Singapore (ACRA), DFS, Singapore Airlines, KPMG Forensics, HP and IBM, amongst others. He is a frequent commentator and writer for The Business Times.