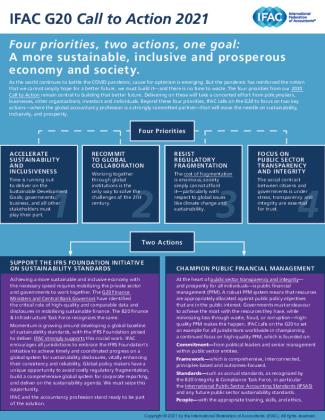 IFAC calls on the G20 to focus on two key actions—where the global accountancy profession is a strongly committed partner—that will move the needle on sustainability, inclusivity, and prosperity.
As the world continues to battle the COVID pandemic, cause for optimism is emerging. But the pandemic has reinforced the notion that we cannot simply hope for a better future, we must build it—and there is no time to waste.
The four priorities from IFAC's 2020 Call to Action remain central to building that better future. Delivering on these will take a concerted effort from policymakers, businesses, other organizations, investors and individuals.
The Call to Action is also available for download in Spanish, French, Arabic, and Russian.
Four priorities, two actions, one goal:
1
Accelerate Sustainability and Inclusiveness
2
Recommit to Global Collaboration
3
Resist Regulatory Fragmentation
4
Focus on Public Sector Transparency and Integrity
1
Support the IFRS Foundation Initiative on Sustainability Standards
2
Champion Public Financial Management
1
A more sustainable, inclusive, and prosperous economy and society.