Finance and accounting professionals provide the critical link between net zero and sustainability ambitions and the achievement of targets.
Lynda Heywood, Group Treasurer, Tesco presented at IFAC's Professional Accountants in Business Advisory Group meeting in March 2023 to highlight her role and that of the finance and treasury function in Tesco's sustainability and net zero journey.
Key Messages
 Establishing net zero commitments, relevant KPIs and priority actions to meet targets all require  a robust understanding of GHG emissions sources. For many companies, a large proportion of total emissions arises in the value chain (Scope 3), which in Tesco's case is around 90%.
Tesco's scope 1&2 emissions targets are being achieved through greater efficiencies in key processes (e.g. refrigeration), electrification, and the shift to 100% renewable energy. Sustainability-linked debt financing supports these initiatives.
Tesco's indirect scope 3 emissions arising in the value chain are being tackled through various initiatives including an innovative supply chain finance programme. This involves working with other market participants on the development of supply chain financing that directly links funding costs to sustainability performance.
Governance and oversight arrangements for sustainability are based on cross-functional collaboration. Key executives lead relevant multidisciplinary committees  to identify and deliver solutions in facilities, product and procurement, as well as reporting. The Group FP&A Director leads the ESG Reporting and Disclosure Group that provides oversight including ensuring alignment of management and external reporting.
Finance and accounting professionals provide the critical link between net zero and sustainability ambitions and the setting and monitoring of targets. They can also help establish effective governance and processes, as well as understand and quantify risk, and the cost and benefits of finance and options to improve performance. In turn, finance and accounting professionals need to understand transition pathways and solutions, and identify what data is relevant to support decision making as well as to enhance data quality.
The treasury function's contribution to Tesco's strategy and goals including net zero has been part of a wider transformation of the function to become truly cross-functional and work in partnership with other finance teams and the wider business.
Trust in sustainability data and KPIs, especially those underpinning sustainability-linked financing instruments is important and requires the procurement of a second party opinion from a third party organization, as well as annual progress reports on which an independent external auditor provides (limited) assurance.
 
Tesco PLC was the first FTSE100 company to commit to science-based targets in line with the Paris Agreement's 1.5°C target. This translated into a commitment to be carbon neutral in its own operations by 2035 and net zero across its whole footprint by 2050. In 2020, Tesco fast-tracked its commitment to reach net zero in the UK by 2035 and achieved its goal of 100% renewable energy across the Group ten years early. In 2021, it extended its commitment to be net zero across the value chain (supply chain and products) by 2050.
Tesco's net zero journey is summarized on its website. It is rooted in Tesco's overall approach to sustainability which links to sustainable development and the Sustainable Development Goals (SDGs) and covers four key pillars:
People (employment and skills, diversity and inclusion, human rights and health and safety and well-being)

Product (food waste, packaging, health and diets and animal welfare),

Places (supporting communities), and

Planet (climate change, agriculture, marine, and forest).
Reporting progress on Tesco's material sustainability issues is now incorporated into its Annual Report to bring an integrated approach to reporting on financial and sustainability performance.
Tesco Emissions Footprint

In 2022, a comprehensive review of Tesco's total emissions footprint was undertaken. More than 90% of Tesco total emissions footprint lies within its value chain captured by scope 3 indirect emissions.
Emissions hotspots result mainly from production of emissions-intensive high demand products such as animal protein, grains and fresh produce and consumer use of products.
Tesco's target to reduce scope 1 & 2 emissions by 60% by 2025, compared to a 2015 baseline, as a milestone to getting to net zero in its operations by 2035 is being achieved through:
Greater efficiencies in key processes e.g., refrigeration and logistics

Electrification of transport

Switch to 100% renewable energy across the group.
In 2022, a 52% absolute reduction in emissions arising from Tesco's operations was achieved against a 2015 baseline.
Ultimately, delivering a net zero ambition involves dealing with scope 3 emissions and engaging with suppliers and customers and enabling them to decarbonize. It will also involve government intervention and incentives in the wider economy.
A Clear and Widely Understood Governance Structure Drives Collaboration
A cross-functional approach underpins the oversight and delivery of net zero commitments and actions. At the board level, the audit committee oversees climate risk management, the internal control environment and reporting requirements. The Corporate Responsibility Committee oversees Tesco's sustainability and net zero commitments, plans to meet those commitments and monitor's progress.
The Executive Committee reviews progress against climate targets and is chaired by the Group Product Officer given the materiality of scope 3 emissions. The Group Product Officer also chairs the Group Planet Committee which includes membership of relevant business functions that have an influence on the achievement of ESG targets.
Three steering groups support the Group Planet Committee's work: Group operational decarbonisation is led by the Chief Property Officer, Planet is led by the Group Quality Director, and ESG reporting and disclosure by the Group FP&A Director, and includes participation from financial reporting, FP&A, and investor relations.
A web of collaboration exists across the group structure involving the participation and input of finance and treasury team members in relevant steering groups.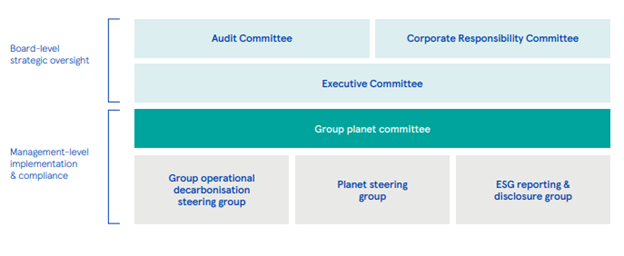 Financing Net Zero
Tesco strives to be a market leader in sustainability linked financing and is aligning its financing to the needs of the business and its key stakeholders. An ESG funding framework was created for Tesco and its suppliers to link funding to sustainability performance and the ESG KPIs set out in its annual report. The three main areas covered by the ESG funding strategy are:
Revolving Credit Facility – 2.5 billion GBP launched September 2020, and re-financed in November 2022 involving 13 banks linked to three KPIs that have evolved to align with ESG priorities:

Reduction in the sum of Group GHG Scope 1 and Scope 2 Emissions (kt CO2e) as of FY2025/26 by 60% in comparison to the FY2015/16 Baseline

Percentage of female and ethnically diverse top global leaders

Percentage change in tonnes of food wasted as a percentage of food handled compared to a baseline year of 2016/17.

The margin is adjusted based on the number of targets met, and performance will be disclosed in the annual report with limited assurance by the independent external auditor.
Sustainability Linked Bonds – issued EUR 750m 8.5-year bond and GBP 400m 7-year bond in January and October 2021 respectively to finance the reduction in the sum of Tesco Group GHG Scope 1 and Scope 2 emissions (kt CO2e) as of FY2025/26 by 60% in comparison to the FY2015/16 baseline. Where the target is not met, there will be a coupon rate step-up of 25bps at the maturity of the bond.

A second-party opinion on the bond issuance was provided by Sustainalytics and the financing framework is structured in line with the ICMA Sustainability-Linked Bond Principles. Progress on the KPI is reported annually, with limited assurance from Tesco's external audit provider, currently Deloitte.
Supply Chain Finance – launched in September 2021 to help address scope 3 emissions, Tesco's innovative supply chain financing initiative aims to lower funding costs for suppliers and align the ESG priorities of Tesco and its suppliers. This financing involves working with other market participants on the development of supply chain financing to provide targeted and tiered funding for suppliers supporting suppliers' journey to net zero. The criteria for supplier KPIs reflect the size of supplier and are based on ESG ratings aligned to Tesco's sustainability targets. Currently, several hundred goods-for-retail suppliers are participating, with GBP billions per annum of sustainability-linked invoice financing being delivered through a number of banking partners, including Santander, which hosts the supply chain finance platform. The scheme will be expanded to other suppliers and locations in the future.

Supplier assessments are carried out independently by Anthesis, and programme assurance by Deloitte. The annual rolling programme provides suppliers support over time.

Tesco is also developing self-service tools for suppliers (e.g., to calculate emissions), and collaborating with industry associations and initiatives relevant to producers (e.g., UK Soy Manifesto) as part of its overall efforts to foster a closer relationship with suppliers.
To recognize its efforts, Tesco's finance and treasury teams have been recognized as winners in the:
---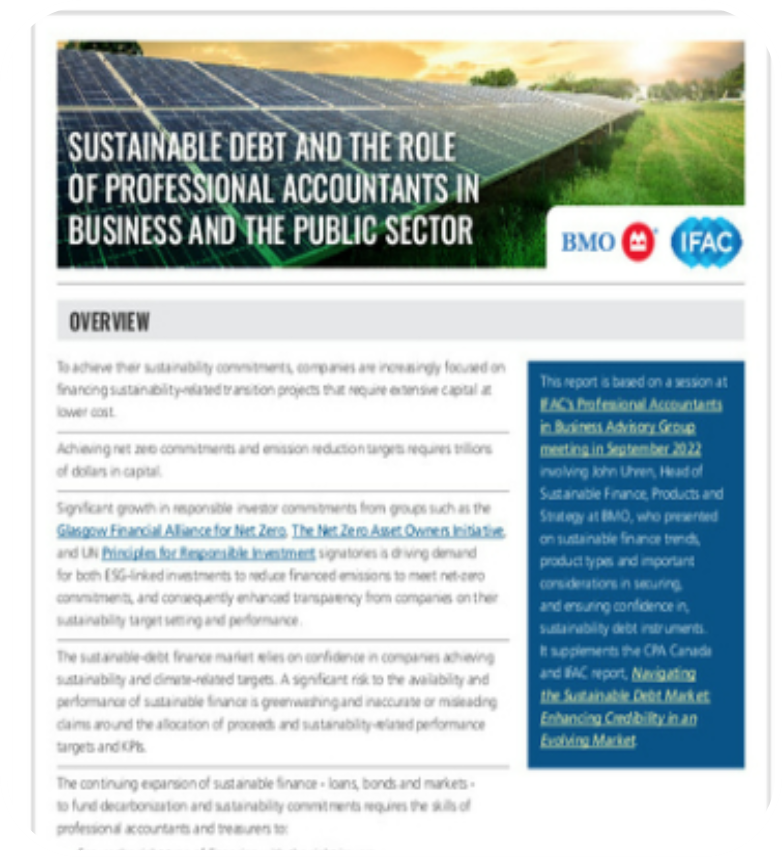 For more information on what investors and banks need from companies and how finance and treasury can enable sustainable financing with confidence, see IFAC's report with BMO, Sustainable Debt and the Role of Professional Accountants in Business and the Public Sector for guidance.