Historically, pursuing the Chartered Accountant (CA) pathway has not been a preferred choice for women in Pakistan and the miniscule minority that entered the profession rarely participated actively in its demanding tasks and activities. As a result, female CAs in Pakistan were not a part of the mainstream. For many years, institutional efforts to increase inclusiveness and gender equality failed to yield desirable results in this critical area.
It was only in 2010 that a group of qualified women decided to make a women-centric forum for female CAs (named Chartered Accountant Women Forum, or CAWF) to conduct frequent networking with an aim to counsel and support each other. In the beginning, CAWF gathered and to discuss how they could attract professionally inactive women to become more engaged in the profession and, additionally, to find ways to attract young women to a male-dominated field.
CAWF created quarterly gatherings, including motivational speeches, counselling sessions and fun activities for bonding. For the first five years these gatherings remained relatively casual. However, after years of meeting, the minds at CAWF thought to do two things: first, to convert their forums into a formal woman-focused committee and secondly, to push for at least one seat reserved for women on the ICAP Council.
The Council was persuaded to approve the committee formation. However, there was no woman in the Council to head the committee, which was one of the requirements of the committee formation terms of reference. Eventually, a male Council member was asked to head the committee. Thus, the first committee with over 15 women was formed in 2017 with well-defined terms of reference. Its main focus was to enhance women's participation in the CA profession.
Meanwhile, a revised CA law was in the making for the women's Council seat. Several conversations were held for the incorporation of the seat. With no positive expected outcome, the forum decided to bring one woman candidate to run for the scheduled election in mid-2017. Ms. Hina Usmani was a consensus candidate as the first but long overdue candidate for the elections.
Extraordinary efforts were put in by all her colleagues, which led to a successful 2017 election campaign. She was victorious, with the second highest number of votes for all candidates running for Council seats. Her thumping victory made ICAP history, as she became the first elected woman in the Council in its 56 years history. This was a celebratory moment for all women CAs in Pakistan, who started their journey in 2010 and whose decade-long struggle had borne fruit.
Immediately after the election, a new committee was formed and Hina Usmani was made its Chairperson. She exuded the same spirit of inclusiveness that initiated CA professional women's struggle as their strategic goals were set into action. Many programs were initiated, such as:
The CA girls Nurturing Program, aimed to bring more women to the CA profession.
The Women on Board initiative, intended to onboard and train women to occupy leadership positions. The publication of the first directory for women board members was a landmark achievement in 2018, after the mandatory inclusion of women on the board by the Securities Exchange Commission of Pakistan (SECP).
The Entrepreneurship Program intended to empower women on career breaks by training them on practical and technical knowledge related to practices other than statutory audit.
Capacity building measures, which encompass basic skills development through courses such as advanced excel, etc.
Mentoring sessions, to provide a space for listening to the issues of female trainee students, counselling newly qualified for work-life balance including career guidance and identification of job opportunities.
The Annual CA Women's Day, which aligns with International Women's Day and celebrates it as a signature event. The President of Pakistan, along with high profile government dignitaries, have graced the occasions multiple times.
An Inspiring Journey of CA Women, which was a historic publication released in early 2021 documenting the entire history of women CAs since the inception of the Institute of Chartered Accountant of Pakistan in 1961.
The Gender Policy, which advocated for more inclusive work environments for women. Extensive work on the policy was done since 2019, which shaped it into a diversity and inclusion guide for women in CA profession.
The above initiatives coupled with continued engagement of CA women throughout 2017-2021 impacted gender inequality in Pakistan's CA profession positively. Another milestone was achieved in 2021 when four women were elected; two in the Council and two in regional committees.
Women CAs in Pakistan have achieved significant progress, especially since 2016-17. The 5-year cumulative intake of female students to pursue the CA pathway increased from 3,930 on June 30, 2017 to 9,712 female students on June 30, 2022. This is a remarkable increase of 147% in female students, especially compared to only 9% increase in the immediately corresponding period. Please see the graph below.
Image

The above graph is further dilated below, showing a steep rise in number of female students since 2016-17 and phenomenal growth of 221% in 2021-22.
Image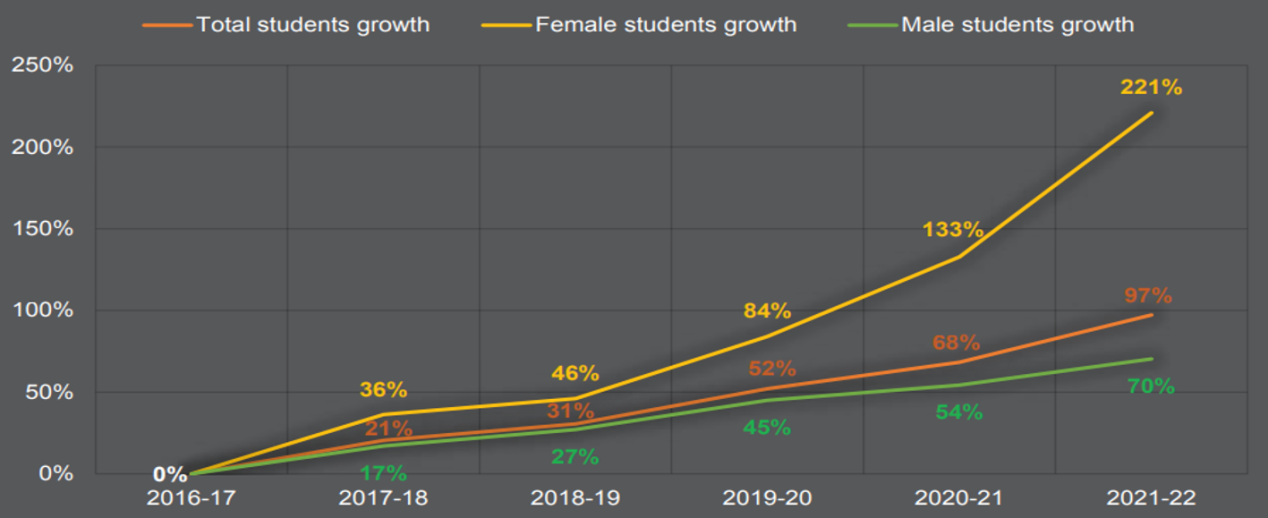 This impact is evidence of the actions which the Council took in 2017, forming the women's committee. It mirrors the circumstances which led to the election of first woman in the Council.
Image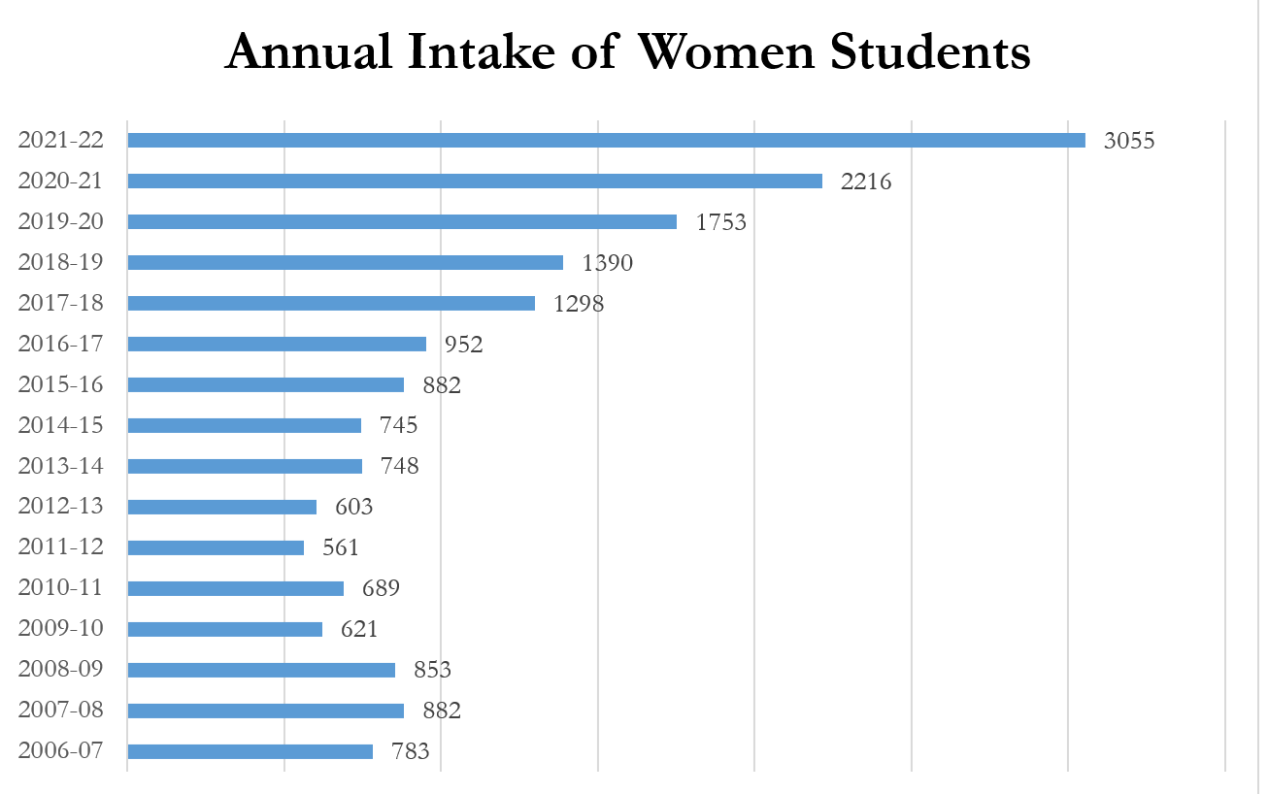 The number of CA-qualified women in Pakistan today stands at 9% of total CAs in Pakistan, as compared to 4% in 2005. Pakistan now has over 1,000 female Chartered Accountants. The women-to-men blending ratios have also increased substantially, both in students as well as in qualified women. These analyses depict a true outcome of the efforts towards inclusion which were made at the institutional level, and especially those efforts to bring women into leadership positions.
Regional statistics reveal women's participation in the CA profession is 22% in India and 30% in Sri Lanka. This led the CA Women's Committee to achieve another landmark milestone: the formation of a women CA body at the regional level. The South Asian Federation of Accountants (SAFA), an apex body of SAARC, constituted a SAFA Women Leadership Committee on the recommendation of the CA Women's Committee of the Institute of Chartered Accountants of Pakistan (ICAP) in 2018. In Pakistan, the CA Women's Committee is continuing to move forward with great momentum. The Committee is confident that it will continue to increase the regional average of women participation in CA profession and in the very near future, will bring the regional average to a commendable level by encouraging women to opt for CA profession as their career and by bringing qualified CA professional women into the mainstream.