In the current environment characterized by geopolitical instability and macroeconomic uncertainty, public sector entities globally face a rapidly changing landscape and increasingly complex challenges. Recovery from the pandemic, high inflation, rising budget deficits and increasing debt levels are all straining public finances at a time when urgent action is needed to meet government net-zero emissions targets and mitigate the impact of climate change.
With so many pressing issues, governments must make tough policy and spending decisions, which emphasizes the need for strong public financial management. Fundamental to strong public financial management is having the right talent in place, resulting in high demand for finance and accounting professionals in the public sector.
In the Middle East North Africa (MENA) region, trends identified through the IFAC Member Compliance Program highlight that young professionals seeking diverse careers are increasingly attracted to the public sector for its stability and long-term career prospects. This is particularly true of young women in the profession, many of whom work in small corporate firms or small- and medium-sized practices (SMPs), and who are seeking more senior positions in other sectors. Employers in the public sector can capitalize on this demand by creating clear mid-career pathways and collaborating with national professional accountancy organizations (PAOs) to provide relevant training.
Image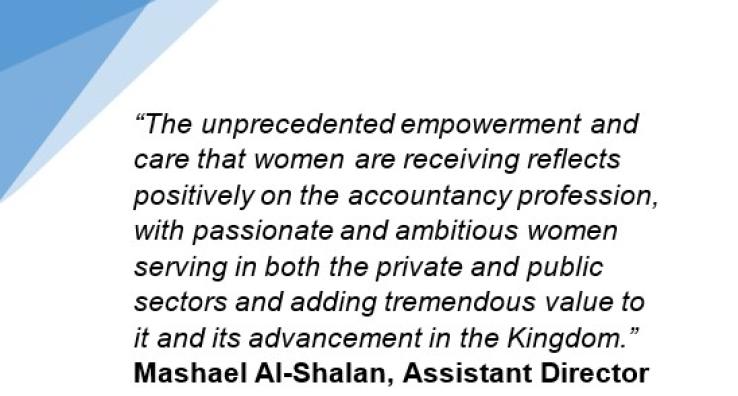 The Kingdom of Saudi Arabia (KSA) Case Study
In 2016, Saudi Vision 2030 was announced by Crown Prince Mohammad bin Salman to create a vibrant society, thriving economy, and ambitious nation. As part of the vision, the government aims to increase the female workforce from 22% to 30% while striving for transparency and effective government.
The accountancy profession in KSA was faced with a challenge. Many competent professional accountants and auditors were retiring from public service, while simultaneously KSA struggled with a shortage of young accountants and auditors to fill the gaps. To address this, over the past five years, the Saudi Organization for Chartered and Professional Accountants (SOCPA) held free training courses for around 4,500 students to prepare them for the market. During the webinar MENA: Connecting the Accountancy Education Ecosystem, Dr. Mosaab Aljuaid, Executive Director for Membership and Professional Qualification at SOCPA, described the collaboration with government and other stakeholders. Dr. Aljuaid reported that aligning accountancy education outputs with the accounting labor market in KSA according to the goals of Saudi Vision 2030 resulted in qualified graduates in accounting for both the private and public sectors.
Also, in direct support of the 2030 vision, SOCPA launched initiatives dedicated to empowering women in the profession to help KSA achieve their ambitions to build a prosperous national economy. One such program was launched in 2021 to enhance accounting and auditing skills in the public sector. The program includes several tracks, including training and qualification, leadership courses and employment.
As a result of these efforts, female accounting professionals are more strongly represented in non-profits and the public sector in KSA than in the private sector. Interestingly, female professional accountants are now over-represented among newly qualified accountants.
According to Saudi Arabia's Family Affairs Council (FAC), Saudi female participation in the economic sector reached 33.2% by 2020, exceeding the target set in the National Transformation Program of 25% by 2020.
"There is no doubt that all these successes achieved by women in the accountancy profession and other sectors are the result of the wise decisions that the leadership in Saudi Arabia has made, it is also an affirmation of the importance of the role of Saudi women in promoting inclusive and sustainable economic growth and building society," Mashael Al-Shalan the Assistant Director of Entrepreneurship and Professional Support of SOCPA, comments.
…and this is just the beginning!