Global Business Services (GBS) and Finance Shared Services (FSS) are large employers of accountants worldwide and provide:
An entry point into the accountancy profession, and
Potentially rewarding career in finance, accounting and business services. 
Professional accountancy organizations have the potential to do more to promote GBS and FSS as a pathway into the profession that offer opportunities to develop careers in finance and business leadership. In some countries, the demand for talent from GBS and FSS is higher than the profession can deliver in terms of attracting students, and this is a gap that needs to be addressed.  
To understand the trends in GBS/FSS workforce, career pathways and opportunities, Jamie Lyon, Global Head of Skills, Sectors and Technology, ACCA, Deborah Kops, Principal and Co-Founder Sourcing Change, and Shirley Hung, Partner at Everest Group, presented to the IFAC Professional Accountants in Business (PAIB) Advisory Group meeting in March. 
ACCA's research, Financial Shared Services to Global Business Services Models: A Journey Worth Taking?, based on a survey of over 800 business service professionals, highlighted these trends: 
GBS models are evolving to add greater strategic value to organizations although some are falling short in their value-adding potential. 
Opportunities exist to create stronger connections between people, processes and technology to enhance operational performance. 
Leading GBS and FSS are considered career-enhancing and can provide rewarding career paths and mobility, and a future talent pipeline. 
Although flexibility in working arrangements is important in attracting talent, location is perceived to hinder career movement. 
FSS versus GBS
GBS are multifunctional platforms encompassing functions from financial operations, planning and analysis to HR, procurement, IT and facilities, and can incorporate customer care, sales, marketing, product planning, and engineering.
FSS are limited by the scale of the enterprise's finance operations and can be perceived more as a back-office function than GBS given their traditional focus on providing transactional work directly for the function or region.
GBS is the next step along the evolutionary path from single-function shared services models such as FSS.
FSS's focus is on finance operations and processes owned by the finance function and can include some financial planning and analysis (FP&A) processes. FSS optimization efforts are typically focused more on reducing cost rather than on streamlining end-to-end processes and enhancing customer experience.
Leading GBS are increasingly focused on harnessing digital transformation for end-to-end process improvement (based on a customer or employee lifecycle) in addition to creating functional and operational value for the wider business. Digital Transformation and the Role of Accounting and Finance Professionals in this New Era, a Proctor & Gamble case study, highlights the new opportunities provided by GBS and the evolution of process owners who are experts in different areas.
Responses to ACCA's survey show that the FSS or GBS shared service models have matured and gained legitimacy. Both FSS and GBS have buy-in of the senior leadership across the organization and are moving beyond the transaction-based operating model that is their foundation. The finance activities encompassed in FSS and GBS include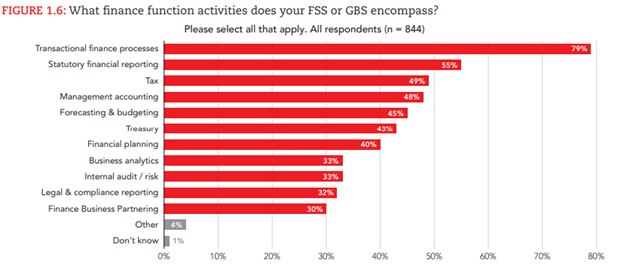 Source: Financial Shared Services to Global Business Services Models: A Journey Worth Taking?, ACCA
Respondents indicate that FSS and GBS are increasingly offering higher value services to the business beyond transactional processing and in some cases are seen as an innovation hub using advanced analytics. The perceptions of delivering higher strategic value are greater for GBS respondents.
Responses also highlight a positive talent management story with a majority of respondents believing FSS/GBS is a talent pool providing a pathway to working outside of FSS/GBS and is a good place to acquire future-ready skills. Future finance leaders will benefit from the experience of working in a business services environment. It is also typical to see finance professionals take leadership roles in GBS given that finance process excellence is often perceived as superior to non-finance process excellence in GBS, and GBS typically offers greater possibilities for mobility in the wider organization.
Both FSS and GBS report challenges in acquiring key capabilities and barriers to career progression in terms of moving:
Within FSS/GBS (the top 3 issues are not enough roles, geographic location, and lack of transparent career paths) and

From the FSS/GBS to the retained organization (geographic location, not enough value based on experience working in FSS/GBS, and not enough roles to move into).
FSS locations are generally able to attract young talent but struggle with offering global career paths and movement to senior roles.
The top three capabilities at the mid-career professional level primarily include knowledge-based capabilities, such as technical domain expertise and digital skills and the ability to collaborate with others.
In relation to FSS/GBS leadership, the top ranked required capability is the ability to navigate the organization by attaining softer leadership skills. Collaboration, stakeholder engagement and insight, along with personal drive, are also cited as critical.
According to Everest Group research, in 2022 talent and skills shortages are top ranked concerns of FSS and GBS leaders, up from being ranked fifth in their concerns in 2020 and 2021. GBS are becoming more focused and intentional on the skills they need to drive their evolution, such as higher order skills in project/agile management, communication and influence, and problem-solving. Approaches to career paths and talent management are evolving and also include comprehensive approaches to diversity and inclusion.
FSS and GBS continue to rapidly move to new operating models that leverage automation and digital tools that optimize end-to-end processes based on employee and customer lifecycles to create higher levels of value, particularly in terms of experience and engagement. As they transform and increase their scope, accountants are shifting to become process owners who are experts in different areas and who can foster continuous improvement.
Ultimately, GBS/FSS environments can provide the opportunity for accountants to be more globally mobile, but barriers remain particularly in terms of where delivery locations are based, proximity to head offices or the regional hubs where key FSS/GBS leaders reside.