Image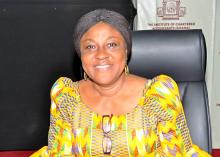 Angela Peasah
Angela Peasah joined the Nominating Committee of IFAC starting January 1, 2020 on the nomination of the Institute of Chartered Accountants (Ghana).
Mrs. Peasah is currently the Head of Payroll Processing Directorate of the Controller and Accountant General's Department Ghana, and was previously the Director of Public Accounts. She was a member of the Ghana International Public Sector Accounting Standards (IPSAS) Implementation Committee. She has served on several committees and boards in the public and private sectors in education, manufacturing and other sub-sectors and is currently a non-executive Director of Unilever Ghana PLC.
Mrs. Peasah is a Past President of the Institute of Chartered Accountants (Ghana) and was a pioneering member the Association of Women Accountants, Ghana which she also served as President. She was a council member of the Association of Accountancy Bodies in West African (ABWA) and a board member of the Pan African Federation of Accountants (PAFA).
Mrs. Peasah holds an EMBA from the University of Ghana Business School.