Image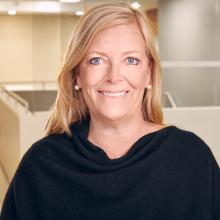 Elaine Young
Job Title
Head of Human Capital
Country
United States of America
As the Head of Human Capital, Elaine Young is responsible for developing and implementing the human resource strategy of the organization, specifically in the areas of talent management, organizational and performance management, training and development and compensation.
Ms. Young began her career as an accountant and was a CPA working at KPMG in New York.  Ms. Young held several accounting positions in the financial services sector before transitioning to Human Resources.  Over the last 20 years, Ms. Young has hands on experience recruiting for all levels of employee, developing and implementing performance management programs, crafting training programs and administering world class employee reward programs. 
Prior to joining IFAC, Ms. Young held several different positions within Human Capital at CenterSquare Investment Management, Apollo Global Management and Goldman Sachs.
Ms. Young holds a B.S. in Accounting from Lehigh University.