Image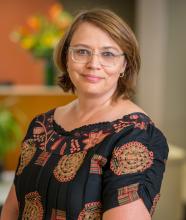 Alta Prinsloo
Job Title
Chief Executive Officer
Alta Prinsloo is the Chief Executive Officer of the Pan African Federation of Accountants (PAFA). She is an executive who is accomplished in strategic planning, capacity building, program implementation, and partnership development.
Ms. Prinsloo previously served as an IFAC executive director with primary responsibility for IFAC's approach to advancing education for future-ready professional accountants.
Ms. Prinsloo joined the International Auditing and Assurance Standards Board in 2002, and served as deputy director before transitioning to IFAC, where she has served in various executive roles, including governance and nominations, strategic planning, risk management, finance, operations & information technology, human resources and intellectual property. She has also overseen a wide variety of initiatives, including accountancy capacity building, Accountability.Now.—an initiative focused on transparency and accountability in the public sector—the IFAC Member Compliance Program, professional accountants in business and in small- and medium-sized practices, and the IFAC Knowledge Gateway.
From 1997 through 2002, Ms. Prinsloo worked at the South African Institute of Chartered Accountants, becoming its technical director in 2000. In 1996, she worked at Amalgamated Banks of South Africa where she was responsible for professional development of the internal audit function. Prior to that, she worked in the national technical and training office of PricewaterhouseCoopers.
Ms. Prinsloo is originally from South Africa, qualified as a Chartered Accountant (SA), and holds a master's degree in financial management.