Image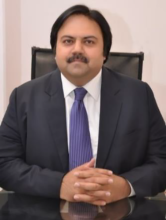 Zia-Ul-Mustafa Awan
Zia Ul Mustafa Awan is a Chartered Management Accountant from ICMA Pakistan with more than 25 years of experience in Corporate and Public Sector on leading positions. He is CFO and Business Administrator of Pakistan Expo Centres Private Limited and was awarded for his work by Prime Minister of Pakistan at the inauguration of Expo Centre Lahore.
Mr. Zia UI Mustafa Awan is President, ICMA. Under his Leadership, ICMA Pakistan twice received the FPCCI Excellence Award from President of Pakistan on the basis of its phenomenal growth.
He is also serving as Director of Ignite National Technology Fund, Chairman of Committee on Governmental and Public Sector Enterprises, South Asian Federation of Accountants (SAFA) and Member Public Sector Financial Management Committee, Confederation of Asian and Pacific Accountants (CAPA).
Previously, he served as Director of Zari Taraqiati Bank Limited, Director of Pakistan Institute of Corporate Governance and President of South Asian Federation of Accountants.