Image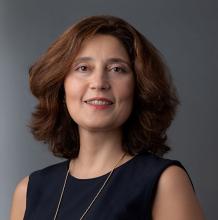 Maria del Dado Alonso Sanchez
Dado Alonso is Group CFO at BBG, a global e-commerce company, and one of the pioneers in the direct-to-consumer business. Prior to BBG, she served as Group CFO for Azerion Before, and in different finance executive roles at Naspers, C&A Netherlands, Booking.com, Amazon Europe. She started her career at Siemens.
She holds a MA in Law and a MA in Business Administration from Universidad Pontificia Comillas (Spain), a MSc IT & Management from Sheffield Hallam University (UK), as well as a CMA from the US Institute Management Accountants. Since 2012, Dado has been a member of the IMA, serving as member of the IMA/ICMA Boards from 2017 to 2022.
Dado became a member of the IFAC Professional Accountants in Business (PAIB) Advisory Group in January 2023. She was nominated by Institute of Management Accountants (IMA).