A customized system of quality management (SOQM) for firms was to be in place by December 15, 2022 as part of the adoption and implementation of the IAASB's suite of quality management standards. Such a system needs to be developed based on the firm's nature and circumstances. For PAOs, like the Slovenian Institute of Auditors (SIA), the new standards presented an opportunity to facilitate a coordinated approach to adoption and implementation – especially for SMPs.
Slovenia is a small country and as such, the audit market is also small. There are about 45 audit firms employing roughly 450 people – 60% of which are engaged in auditing. Some audit firms that are members of global networks have aligned their system of quality management (SOQM) with the requirements of ISQM1 with the support of their networks. However, there are multiple smaller audit firms that are relying on support and guidance from the SIA. As such, SIA has been actively undertaking initiatives to support these firms. 
Like many PAOs, SIA has been sharing information about the International Standard on Quality Management 1 (ISQM1) requirements through various means such as conferences, articles, direct e-mail communication, and training since the standards were released. Based on this engagement and feedback, toward the end of 2021 SIA and the audit market regulator (Agency for the Public Oversight of Auditing (APOA)) jointly concluded that smaller audit firms need more support from SIA in adapting to ISQM1 requirements, which focus on moving from binary processes to more proactive, risk-based management.  
SIA, of course, could not create the SOQM for the firms but rather could support in getting started with the process. SIA invited representatives from all audit firms to participate in a workshop that would guide them in creating the SOQM that was tailored to their firm.
To ensure the effectiveness of the workshop, SIA first needed to motivate participants to read and understand the requirements of ISQM1. There is no replacement for reading the requirements outlined in the standard itself. SIA set up an e-learning space dedicated to the quality management standards. SIA then collected and shared links to various resources and tools, such as publications from IFAC and its network posted on IFAC's Knowledge Gateway. To gain entry to the SOQM workshop, individuals first had to pass a series of quizzes in the e-learning space on the standards with a score of at least 80%.
For the workshop, in addition to a slide pack of ISQM1 requirements in Slovenian, SIA created a risk register template in Excel (an example preview shown below) based on the quality objectives listed in ISQM1. The template includes blank rubrics for the quality indicators, a risk description, an assessment of the potential impact, and the likelihood of each risk to occur. The template also includes blank rubrics for the description of strategies to address the identified risks, planned actions, deadlines, and the individuals responsible for addressing identified risks. During the workshop, speakers and participants discussed quality goals and shared real-life examples of the risks involved, as well as possible actions to address such risks and potential indicators to measure quality.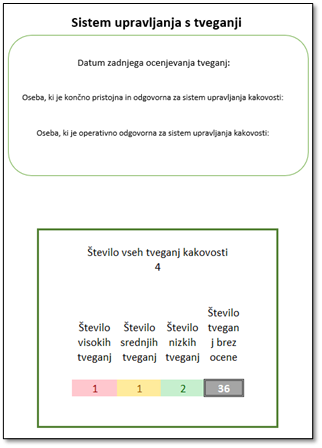 At the conclusion of the workshop, participants left with a first rough draft of their audit firm's risk register with respect to the ISQM1 quality objectives. It was important for SIA to emphasize that the process for quality management does not stop at the end of the workshop. Participants were required to revise their initial drafts of risk registers with input and discussion within their audit firms, appropriately assign roles and responsibilities for their audit firms' SOQM, reconsider additional scaling options, and follow-up on the "specified responses" as identified in ISQM1.34.
In the coming months, SIA will obtain feedback from the APOA, based on its quality assurance reviews and inspections, and on the success of SOQM formulation at smaller firms with no other network support. Additionally, SIA will follow up to support audit firms in evaluating the functioning of their SOQM in accordance with ISQM1.
---
Share your story
Does your PAO have great examples of implementation support for quality management standards? IFAC would like to share it on the Gateway to continue our PAO knowledge-exchange on quality management. IFAC & the World Bank's quality management webinar for PAOs from 2022 is available in Arabic, English, French, Spanish, and Russian.
And be sure to visit the IAASB and IFAC dedicated quality management webpages for more adoption and implementation support.