At the 2023 EU Green Week, global industry leaders, experts and finance professionals explored the crucial role of accountancy in driving sustainability, and the relevant skills and capacity building needed to empower accountants to do so. 
As the world seeks to decarbonize its economies and achieve net zero emissions, there is an urgent need for all stakeholders to understand and respond to that challenge.
Finance and accountancy professionals, including auditors, have a critical role to play in enabling the transition to a greener global economy, both in putting sustainability at the heart of decision-making, and in championing responsible practices in the public interest. They must, however, be equipped with the right education and skills to help the profession address the impacts of climate change in what companies report, empowering them with the knowledge and expertise needed. For this, we need to build capability and capacity for high-quality, decision-useful sustainability disclosures. And it all starts with education.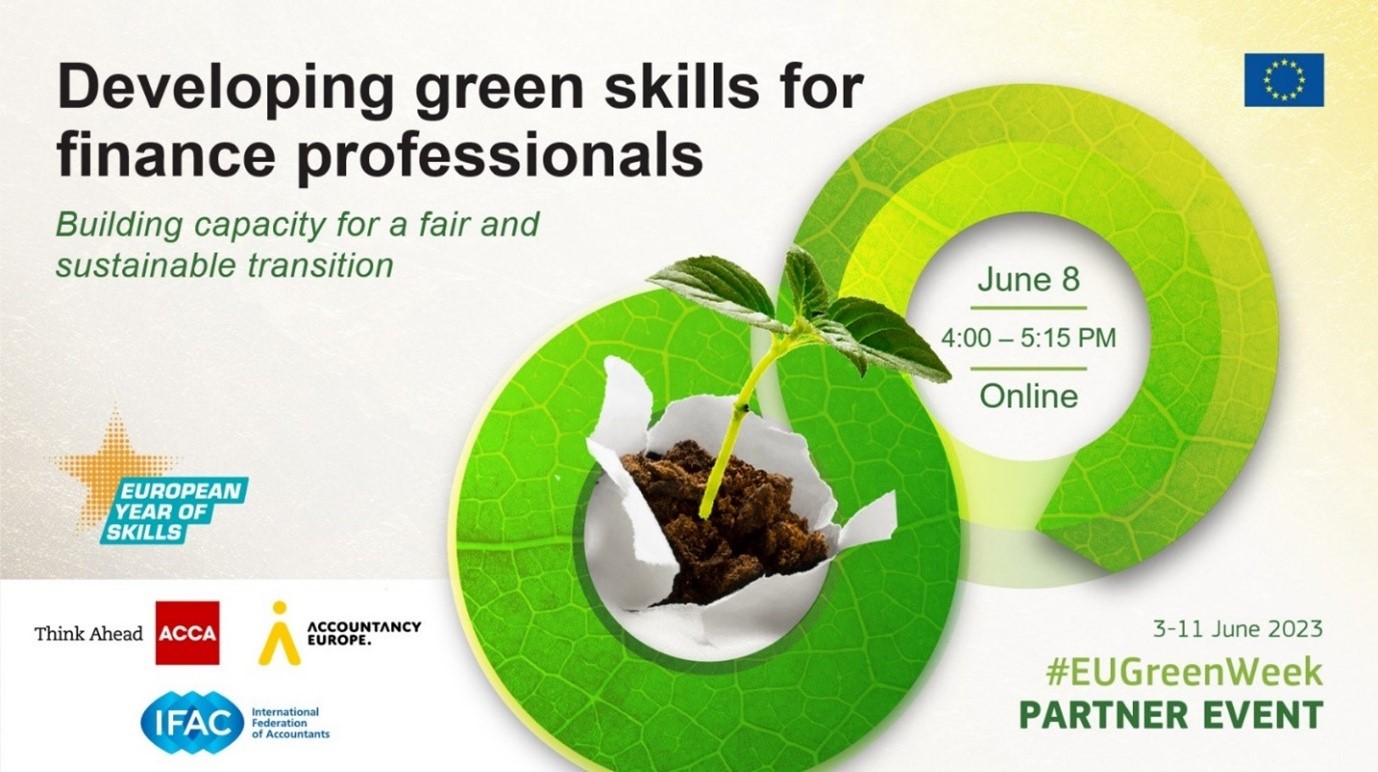 In order to raise awareness on this crucial issue, as part of the June 2023 EU Green Week , the Association of Chartered Certified Accountants (ACCA), Accountancy Europe and the International Federation of Accountants (IFAC) organized a global webinar, attended by over 300 participants from around 100 countries, who actively engaged in discussions.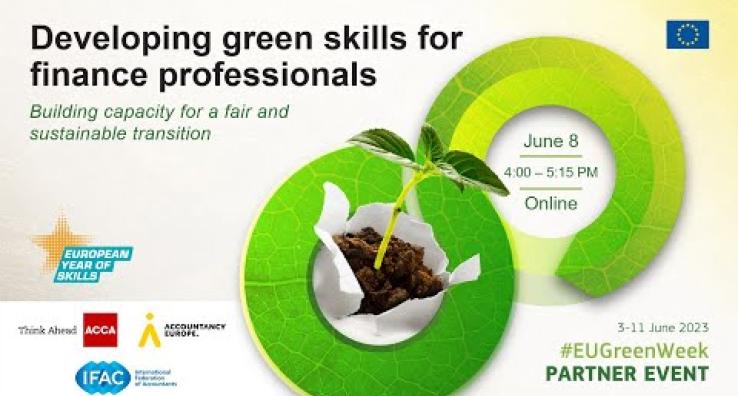 Full video: Developing green skills for finance professionals | June 8 2023
Anne-Marie Vitale, Chair of IFAC's International Panel on Accountancy Education (IPAE), said in her welcome speech: "Professional accountants play an important role in responding to the demand for increased transparency, disclosure of reliable information, and enhanced trust in sustainability-related information. We have existing skills and competencies that are equally applicable to financial reporting and sustainability-related financial information, and we operate on a foundation of ethics, integrity, and trust, and our underlying, non-negotiable quality".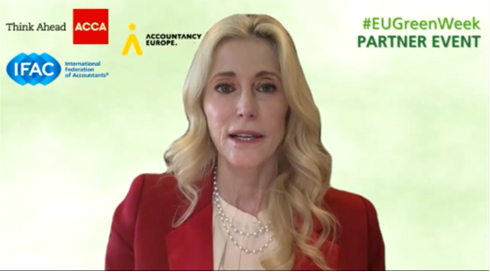 Anne-Marie Vitale's address was followed by a panel of finance professionals with expertise in sustainability and education. The panel of experts, moderated by Sharon Machado, Head of Sustainable Business, ACCA was also composed of: 
Mardi McBrien, Chief of Strategic Affairs & Capacity Building, IFRS Foundation;

 

Bianca Isaincu, Policy Analyst, financial literacy and sustainable finance, OECD; 

Adriana Tiron Tudor, Chair of

Professional Accountancy Education in Europe (PAEE); and

 

Clemence Lecat

, Senior Manager Accounting Expertise, Unilever

 
Panelists discussed how to identify and create the right framework for sustainability education for finance professionals; the strong need for capacity building in the sustainability information space; and the related challenges and opportunities for practitioners.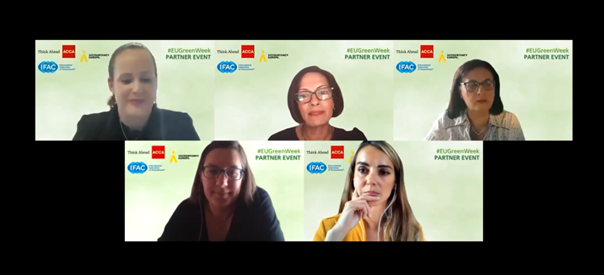 Adapting existing skills, developing new capabilities 
Discussions confirmed that the role of accountants has already evolved with the introduction of sustainability reporting requirements. This trend will increase as new sustainability standards, such as the ones developed by the International Sustainability Standards Board (ISSB) or European Financial Reporting Advisory Group (EFRAG), are implemented. 
Connecting financial and sustainability-related information is key. All experts agreed that accountants are in an ideal position to leverage and apply their existing financial reporting skills, knowledge and expertise to sustainability-related disclosures.  Further, the way in which matters of environment and society are intrinsically linked to financial economics make the profession well placed to communicate that integrated story with integrity. 
Some skills, such as producing accurate and useful information, or assessing impact on accounting policies, are easily transferable and adaptable to support decision-useful sustainability-related disclosure. Accountants are also best placed to develop approaches that consider all relevant factors, including impacts along the value chain and over different time spans, in order to filter out the information that is material to investors, and that is evidence-based and of sufficient quality to dismiss claims of greenwashing. 
But accountants will also have to develop new skills, starting with the understanding that sustainability reporting is broader than financial accounting, and especially in the appreciation of the related risks. Sustainability reporting requires a more integrated mindset, and a more extensive understanding of the whole value chain of the organisation beyond the financial reporting scope that accountants are familiar with. There likely will also be more emphasis on using information obtained from external sources.
Professional accountants understand the flow of information and data related to financial reporting. What may be new to practitioners is understanding energy flows and emission sources.  Some of the metrics, KPIs, measurement techniques, or estimation approaches involved in sustainability reporting are also likely to be new to accountants, particularly in relation to measures of physical outputs - such as pollution, waste and emissions-, and forward-looking statements, such as on strategic resilience, and a much higher number of estimations and judgments.
The importance and benefits of collaboration with other experts was unanimously highlighted in the panel discussion. Given the interdisciplinary nature of sustainability-related financial disclosures, accountants may also need to develop new approaches to working with experts from other fields, and the range of these experts is likely to expand.  
Sharon Machado, ACCA's Head of Sustainable Business said: "The role of the profession is to inform, drive, implement, report and assure organisation sustainability strategies. But to respond to increasing regulation, public scrutiny, and the imminent introduction of mandatory sustainability disclosure requirements, all professionals must develop their integrated economic, environmental and social skills, behaviours and mindset."  
"The profession's policy makers and educators, including professional bodies are making good progress and have plans for more," Machado added. 
Identifying and creating the right framework for sustainability education 
As the importance of sustainability across the profession is rising, professional accountancy organizations (PAOs), especially in Europe, are already leading multiple initiatives on sustainability education.  
According to a survey conducted by Professional Accountancy Education Europe (PAEE) in 2023, sustainability is already included in professional education and training for accountants and auditors. Several PAOs offer extensive learning programmes with a certification comprised of modules covering topics such as:
Sustainability reporting;

Sustainability assurance;

Developing and implementing sustainability led strategies;

Transforming business models for example to be more circular;

Performance and risk management; and

Sustainable finance and similar
PAOs may also offer shorter learning programmes on specific topics either in addition to the more extensive ones, or instead.
In addition, PAOs and the profession's representative associations, such as Accountancy Europe and IFAC, offer support to their members by sharing various resources: podcasts, webinars, reports, other organisations' materials, policy responses to consultation papers, agreements with academic related to sustainability education, and special sustainability-specific modules on their websites. 
The EC/OECD Financial Competence Framework for Adults in the European Union also represents a very valuable reference for the profession, especially related to the advisory services about sustainable finance offered by our profession to different clients, be they companies or individuals.  
IFAC's IPAE has commenced a project to evaluate the need to revise the International Education Standards in response to sustainability-related reporting requirements.   This project will consider the knowledge, skills and behaviors needed to deliver high-quality, sustainability-related reporting services, including assurance. It will analyze the existing competencies of professional accountants that are applicable to these services ("what hasn't changed") and identify areas where accountants need to develop new competence ("what's new").    
Building capability and capacity for high-quality, decision-useful sustainability disclosures 
Experts stressed that capacity building is not just about upskilling, but also making sure that sustainability reporting and assurance standards are adopted, and professionals have the appropriate license to operate. The success of capacity-building programmes requires listening to what people need in terms of support, which is often education and training. But other times, it's about connecting organisations and people who can best build their capacity together by exchanging views and experiences.  
Olivier Boutellis-Taft, CEO of Accountancy Europe concluded the panel: "The discussions highlighted that the accountancy profession already possesses very relevant knowledge and practical experience to address sustainability challenges. We however need to continue expanding our ability to respond to societal needs and support the fundamental changes required to transform our economy."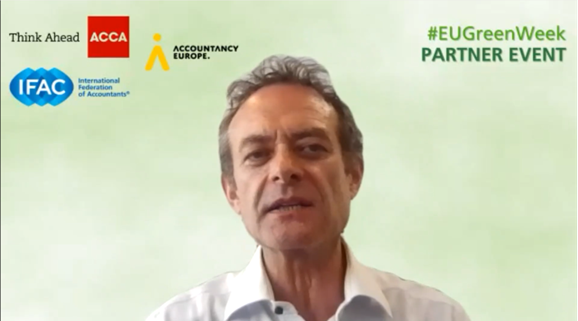 Watch the key recommendations from our experts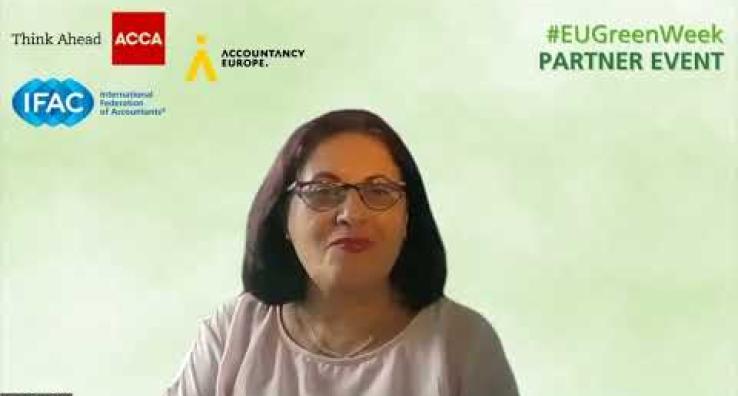 Developing Green Skills for Finance Professionals | Speakers Recommendations
Useful resources
IFAC

 
Accountancy Europe

 
 Accountancy Europe: Members' initiatives on sustainability education 
 

ACCA

 
 The ACCA Accounting for a better world | ACCA Global is a hub of resources covering:
Insight on the future direction of sustainability and its impact on organisations and the role of the profession

An outline of how sustainability is embedded across the qualification

Links to continual professional development, including the ACCA certificate in sustainability and climate finance course

Awareness raising and education engagements and events for professional accountants and policy makers
OECD/INFE

 
 

ISSB

 
 

PAEE