Image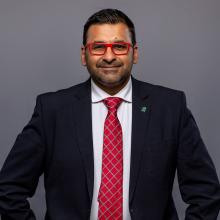 Sanjay Rughani
Sanjay Rughani serves as the Chair of the IFAC Professional Accountants in Business Advisory Group, having been nominated in June 2015 by the Association of Chartered Certified Accountants (ACCA).
Mr. Rughani is the CEO for Standard Chartered Bank (SCB) in Uganda, and prior to this was the CEO for SCB in Tanzania.  He joined Standard Chartered Bank in 1999 and has held various key positions with the bank which include Interim Head - Global Finance Shared Services (FSSC), Head of Finance Operations & Change Management – Africa, Executive Director Finance for Ghana and Area CFO (Ghana, Gambia, Sierra Leone and Cote d'Ivoire), Executive Director Finance for SCB Tanzania and Regional Finance Manager for Africa based out of London, UK.
Mr. Rughani's professional credentials and qualifications include being a Chartered Accountant through NBAA Tanzania, an ACCA member, MBA in Finance, a Fellow of Institute of Information Management Africa (Nigeria), Management post-graduation in HRD and a Bachelor of Commerce. He is also a qualified trainer and sponsor of the HIV and AIDS program for Standard Chartered Bank. He is passionate about and supports initiatives which increase capacity for the finance profession and human capacity, particularly in Africa.
In addition to his role on the IFAC PAIB Advisory Group, Mr. Rughani's various governance representations include: Chairman of CEO Round Table Tanzania, Vice Chairperson for Tanzania Bankers Association (TBA), Non-Executive Director of Tanzania Private Sector Foundation (TPSF), Executive Member of Tanzania National Business Council (TNBC), Trustees of UDOM Endowment Fund and Non-Executive Director Association of Tanzanian Employers (ATE). His past engagements include: founding member of FSSC forum in Kenya, Non-executive Director Standard Chartered Bank Uganda, past Chairman of Ghana Business Coalition against HIV & AIDS (GBCA) and past President of Lincoln Community School (American International School in Ghana).
A Tanzanian national, Mr. Rughani is married and has two children.