Image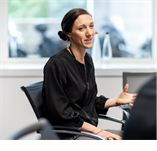 Mahalah Groves
Mahalah Groves is Head of Capacity Building at the Association of Chartered Certified Accountants (ACCA).  ACCA's global community of 227,000 members and 544,000 and future members is based across 176 countries.  Mahalah supports many of ACCA's key partnerships across the global accountancy profession and has oversight of ACCA's funded international development work.
Mahalah has been with ACCA since 2008 and, in her current role as Head of Capacity Building, she leads a wide variety of development projects to strengthen the accountancy profession. A portfolio that currently includes capacity building projects across Africa, Asia Pacific, Eastern Europe and South Asia. Her experience includes initiatives to implement international standards, develop strategy, and strengthen qualifications and regulation – and to support partner bodies in their journey toward membership of the International Federation of Accountants (IFAC).
Since 2017, Mahalah is a technical advisor to a member of the IFAC Professional Accountancy Organisation Development Committee (PAODC). Mahalah also plays a key role in ACCA's partnerships with the United Nations Conference on Trade and Development and the international development community.
Prior to joining ACCA, Mahalah's professional experience included intellectual property and brand development.